Pirelli boss keen on V8 Supercars tyre contract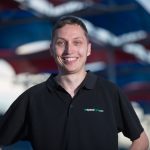 Global Pirelli motorsport boss Paul Hembery has declared his interest in adding V8 Supercars to the company's growing portfolio.
The Italian tyre giant has steadily increased its motorsport involvement in recent years, now supplying 250 championships worldwide.
The manufacturer has earmarked Asia and Australia as key markets for the brand as it looks to expand its motorsport interests.
Hembery met senior V8 Supercars figures at the recent Australian Grand Prix, where he was overseeing the company's Formula 1 program.
THE FINAL RACE OF THE 2023 REPCO SUPERCARS CHAMPIONSHIP ON ONE OF THE WORLD'S BEST STREET CIRCUITS. GO ALL IN AT THE VAILO ADELAIDE 500, CLICK HERE TO BUY TICKETS
The V8 Supercars' current deal with Dunlop, which has supplied the championship since 2002, ends at the conclusion of the 2017 season.
Although the Dunlops are already heavily subsidised at approximately $300 per tyre, V8 Supercars is known to be keen to further reduce the costs for its teams.
Tyre allocations have been a major money saving push within the category in recent years, despite criticism of the impact that the reduction can have on the racing.
Hembery confirmed to Speedcafe.com his personal desire to see Pirelli enter the category, but stressed that the economics of any deal would need to stack up.
"We have always talked to the (V8 Supercars) organisers and we tried to bid six or seven years ago and we got very close to taking on the contract," Hembery told Speedcafe.com.
"I have family down here and they are big V8 fans and they are always saying to me it's about time I pulled my finger out and started doing V8s.
"I love the racing, I always watch it at the grand prix on the big screens. It's fantastic to follow and I'm a fan of the series.
"We'd love to do it but it has to work on the right cost basis."
The Englishman stressed his desire to increase Pirelli's motorsport interests globally.
"I have given the team a target that within two years we want to be up near 300 championships," he said.
A tender process for the 2018 tyre contract will likely to place next year to allow time for testing and development if a change of brand were to take place.
The championship's new-for-2017 Gen2 rules will retain the current 18-inch wheel and tyre package introduced two years ago under the Car of the Future.
Although V8 Supercars remains a possible future target, Australia's growing Bathurst 12 Hour endurance classic is firmly entrenched in Pirelli's 2016 motorsport plans.
Having earned a reputation which places the race among the world's best GT endurance contests, the event has seen a tyre war develop between Pirelli and Michelin.
Pirelli fielded 12 of the 29 GT3 entries this year but it was Michelin which came out on top, with the French firm claiming a podium lock out.
Hembery, who made a swift visit to the event last month, has promised an increased presence at Mount Panorama next year.
"We want to be more involved in motorsport down here in Asia and Australia is a very important part of that and Bathurst (12 Hour) is the most significant race from that point of view," Hembery added.
"I couldn't stay for the whole weekend this year but I just wanted to physically see who the competitors were, the standard and level of the drivers and what was going on.
"I was looking with an eye on next year and what we want to be doing then  and I'm quite sure you will see some different things (happening).
"I want to win it really that is what we (Pirelli) want to do.
"There are a few details we can work on like getting a good team together and the right combination of pro and amateur drivers plus getting the right choice of tyres for the conditions."