Le Mans to open career options for Evans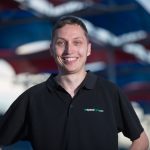 Although reaching Formula 1 remains his ultimate goal, Mitch Evans believes his Le Mans 24 Hours debut represents a chance to evaluate his career options.
The New Zealander this week announced he will join crack British LMP2 outfit Jota Sport for the prestigious French classic and the proceeding Spa 6 Hour (May) for his first taste of sportscar racing.
Former GP3 champion Evans will dovetail his Le Mans commitments around his third season in F1's feeder series GP2, having re-signed with top team Russian Time.
The 20-year-old heads into the 2015 GP2 season as one of the favourites to challenge for the title, but with limited opportunities to make the transition to F1, he feels sportscars is becoming a more viable option for young drivers aiming to forge careers in the sport.
Evans will pilot a Jota Sport Gibson-Nissan 015S alongside British GP3 driver Nick Yelloly and Jota Sport regular Simon Dolan at the June endurance classic.
"It's a great opportunity and you just don't know where the sport is going to be in the next few years," Evans told Speedcafe.com.
"It is good to have on my CV and the way F1 is at the moment you just don't know. I'm only doing two races but I'm pumped to take on this all new kind of racing.
"F1 is still at the top of everyone's list and that's where people want to be, but as we all know its in a bit of state at the moment and you do have to look at other avenues and be realistic.
"Sportscars seem to be in a really positive state, with all the manufacturers involved it just seems really healthy.
"Whether that is the future of motorsport at the top we don't know but at the moment it seems to be a good place to be for a diver like myself.
"At the end of the day I want to have a professional career. With me doing GP2 I'm still looking at the F1 dream for sure but I have still got to keep my options open for next year and for years to come."
Mentored by multiple grands prix winner and Porsche LMP1 factory driver Mark Webber, Evans will not be short of advice as he embarks on his maiden Le Mans 24 Hours appearance.
Due to his extensive schedule the Kiwi will have competed only a handful of laps behind the wheel of the Jota LMP2 entry before Spa.
"Even last year I learnt so much about it just from Mark (Webber) talking about his experiences," added Evans, who attended Le Mans last year as a spectator.
"I think people really underestimate the demands of endurance racing especially when you get to the likes of Le Mans and 24 hour races.
"There is so much going on with all the classes and different speeds of cars. There is the lack of sleep and car preservation.
"Racing at night time is going to be whole new thing. I'm expecting it to be tough but its a great challenge."