Last chance for F1 hopeful Gilbert in GP3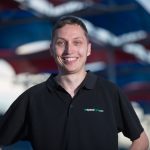 Mitch Gilbert says 2015 marks the last chance to prove himself in single seaters as he targets the GP3 title with reigning champion team Carlin.
The 20-year-old Australian has joined the highly regarded Carlin operation after two dismal seasons in the FIA European F3 Championship, which saw him accrue seven top 10 results in the highly competitive series.
Having struggled to showcase his skills in Europe's elite F3 proving ground, the Malaysian-born Aussie has been handed a lifeline by Carlin, renowned for nurturing the early careers of F1 stars including Sebastian Vettel and Daniel Ricciardo.
After guiding Williams F1 reserve driver Alex Lynn to the GP3 title last year, Gilbert is throwing everything into the 2015 campaign, which he fears may be his last opportunity to make an impression on the single seater ladder.
Gilbert's year is off to a strong start, topping the afternoon session of the opening GP3 test of the season at Portugal's Estoril circuit this week.
"This really is my last chance. If you can't prove yourself by now you never will," Gilbert told Speedcafe.com.
"I've signed with a team that has won the championship and I feel like I have no excuses. If it doesn't go well it is because of me there can be no other reason.
"Absolutely the title is the goal. When I went to Carlin and told them about my troubles of the last two years they told me to forget that.
"They told me 'the speed is obviously there and if you come here and work hard and do what we tell you, then you will be somewhere near the top'.
"This year is everything. If it comes then you never know where it will take me.
"It kind of stops after this year to be honest unless somebody else comes on board."
After two difficult years in the sport, Gilbert says he is using the career of Red Bull backed driver Antonio Felix da Costa as his inspiration.
Da Costa endured a couple of lean seasons in 2010 and 2011 before emerging as one of the bright stars in single seaters.
Assisted by Carlin, the Portuguese won the 2012 Macau Grand Prix while earning a spot on Red Bull's young driver program, which has eventually led him to the DTM.
"Felix da Costa at the moment is my biggest inspiration because when he signed for Carlin in GP3 he had just come off the back of two terrible years and he had half a good year with Carlin and look where he is now," said Gilbert.
"Obviously he did a good job and maybe the couple of years before was completely out of his hands but he turned his career around.
"I'm sure Trevor (Carlin) can do the same for me he has already been very supportive regarding what happened in my last two years and where we can be."
Amid the pressure to perform, Gilbert has turned to psychology to help deal with the mental aspects of the sport.
"To be honest I really believe in seeing psychologists and mind coaches," added Gilbert.
"At the moment I see a hypnosis guy. It's really good. He talks to your subconscious and takes away any fears or doubts you have.
"We all have them (doubts). The last two years damaged me a lot as a person which is why I started seeing this guy.
"Everybody has been at a similar point in your life but I do believe in self improvement to be a better person and driver."
Gilbert's championship campaign begins at Spain's Barcelona circuit on May 10.