Hackett eyeing new Mercedes for 2016 AGT tilt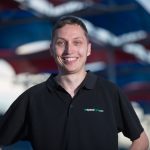 Experienced GT racer Peter Hackett is forging ahead with a plan to return to the Australian championship behind the wheel of the new Mercedes AMG GT3.
The two-time Australian GT runner-up is preparing to be among the first to import Mercedes' new GT3 challenger as part of a plan to form a new team to contest the 2016 Australian GT Championship.
The former Australian Formula 3 champion aborted plans to return to the championship in an SLS GT3 this year in favour of waiting for the latest GT3 offering from Mercedes, launched at the Geneva Motor Show last month.
Hackett's last full-time appearance in the Australian GT Championship was in 2012, where he finished runner-up driving Erebus Motorsport's Mercedes SLS AMG GT3.
Although the bid is in its infancy, Hackett is confident he will be sitting on the grid in an AMG GT3 next year.
The Mercedes-Benz Australia chief driving instructor confirmed the effort will not be a factory entry.
"There is no surprises at the fact that I'm trying to get back into GT," Hackett told Speedcafe.com.
"My time in the SLS was cut short. Logically the AMG GT is where I need to be and what I need to do, we are forging ahead trying to make sure we are on the grid next year with a new AMG GT.
"There are a lot things to come in place. Pricing for the cars is not confirmed yet, but if I can get a few sponsors in place then I will being going gung ho to get on the grid.
"I'm as confident as I've ever been and probably more confident than when we when we put the SLS program together. Everyone is super excited about GT.
"The timing is perfect for me to try and put something together for next year and to be honest there is no rush.
"The (Mercedes) global policy is the factory will not get involved. There is no favouritism there.
"I'm not too worried about match fitness I'm just itching to get back out there."
Hackett is also contemplating a tilt at the 2016 Bathurst 12 Hour, although the new Mercedes AMG will need to be homologated this year to be eligible for the February endurance classic.
"The 12 Hour regulations require that the car is eligible and I think to do that the cars have to have compete in an FIA GT sanctioned event," added Hackett.
"The 12 Hour eligibility will basically depend on the manufacturer getting the cars homologated in time. If they are it would be a fantastic place to launch the car.
"If I can get back on the grid there (Bathurst) that would be great, but at the end of the day my focus will be on securing an Australian GT seat."