Young Aussie ready to race Schumacher, Newey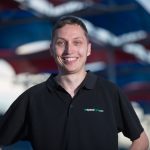 Australian Joseph Mawson is unfazed by the challenge of facing up against high profile team-mates Mick Schumacher and Harri Newey in Germany's Formula 4 Championship this year.
The Formula 1 hopeful has joined the renowned Van Amersfoort squad for the 2015 campaign alongside the sons of seven-time F1 world champion Michael Schumacher and renowned design guru Adrian Newey.
The season will mark the full-time car racing debuts for Schumacher and Newey following promising stints in karts
Mawson, who finished fourth in the 2014 French F4 Championship, is steadily rising through lower formulae, with this year's move to German F4 is expected to be his biggest challenge yet.
The 18-year-old CAMS backed driver tried to snare a seat in Formula Renault 2.0 before deciding to join the German series, which he feels will provide a much stronger test compared to 2014.
Having starred in his first season outside of karts, the Sydney teenager admits the hype surrounding his team-mates will add pressure, but is confident he has the skills to shine in the category.
"Its fantastic to have those team-mates that I have, the sons of Adrian Newey and the son of Michael Schumacher," Mawson told Speedcafe.com
"At the end of the day they are team-mates and my number one goal and priority is to beat them.
"It's a little bit of pressure but I see it as a motivation.
"There is going to be a lot of media because the names that they have but my goal is to do the best job I can and results will speak for themselves.
"I had some good results last year and I managed to show my potential so that gives me confidence for the season.
"I'm in a good team with good team-mates and I have year of experience in these cars so it definitely gives me some confidence."
Van Amersfoort is renowned for nurturing young talent having helped Max Verstappen in FIA European F3 last year, while playing a crucial part in the careers of GT aces Laurens Vanthoor and Jeroen Bleekemolen.
Mawson believes joining a team such as Van Amersfoort is the perfect place to progress his single seater career with the young Aussie already planning a move to FIA European Formula 3 for 2016.
"Our realistic goals is to compete in FIA European F3 next year but it will depend on my results this year," added Mawson.
"It's good to see the there are more and more young drivers coming in to F1. Its an inspiration as I actually raced against Max Verstappen in karting.
"I want to see how far single seaters can take me and what opportunities arise. I might even consider doing WEC or DTM but obviously the ultimate dream is to get to F1."