Ricciardo: Newey remains key part of Red Bull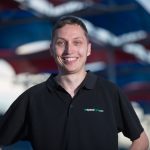 Adrian Newey remains heavily involved in the development of Red Bull's RB11 despite announcing he would scale back his Formula 1 commitments, according to Daniel Ricciardo.
Red Bull's design chief announced midway through last year that he would take a step back from the squad's Formula 1 team, moving to a "special projects" role within the company.
Despite the proposed shift, the widely lauded designer attended each of the three pre-season tests before also making the trip to Albert Park to oversee the championship opener.
Following an off year by the team's very high standards last season, Ricciardo says the Milton Keynes outfit is pushing hard to recapture the top spot in the paddock, with Newey's skills an integral part of its progress.
"To be honest the vibe is still good, it's still strong," said Ricciardo of the team.
"Adrian's (Newey) here this weekend. I've been asked a little bit about him and how much he's stepped back.
"I don't want to put him in a spotlight but I think he was at all the tests and he's here this weekend and it looks like he's already done more than he originally thought he would.
"So, I think he's still very much interested in the RB11.
"From what I can see, the team definitely wants to get back on top. Obviously it was an off-year from their standards last year and I don't think we're too keen to let Mercedes get any further away."
Having enjoyed a much stronger pre-season compared to the disastrous start to 2014, Ricciardo says the team is in a much better position compared to 12 months ago.
Last year expectations were to reach the chequered flag while this weekend the team is hopeful of at least securing a podium finish.
Coupled with the team's progression, Ricciardo also feels he has developed into a more complete driver since his breakthrough 2014 campaign.
"If you look back at last year, for sure we're in a better position," added Ricciardo.
"Obviously we're coming here this weekend with a lot more confidence and reliability and we've actually got a plan for Sunday, whereas last year it was just 'ok, let's put the car on the track and hope to see the chequered flag.'"
"Within the team there's obviously a lot more that's progressed since then," he continued.
"With myself, obviously I've moved along, I feel a long way and I'm a more evolved driver and have a bigger impact in the team, obviously spending the twelve months in the team that I have now.
"It's all there on the table, I think, ready for us to use and pursue, to put up another strong fight. I'm looking forward to that this year, definitely."