Jones: Vettel can mirror Schumacher at Ferrari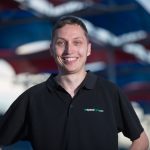 Sebastian Vettel can follow in the footsteps of Michael Schumacher by lifting Ferrari back to the top of Formula 1, believes former world champion Alan Jones.
Vettel's move from Red Bull Racing to Ferrari headlined the Maranello squad's much publicised restructure after last year enduring its first winless season since 1993.
The four-time world champion, who had been the benchmark in F1 prior to 2014, is expected to lead Ferrari's revival.
The German's move has drawn comparisons from when Michael Schumacher left the world champion Benetton team to join a struggling Ferrari outfit in 1996.
Former F1 world champion Jones believes the 27 year-old will galvanise the Scuderia into a race winning outfit similar to what Schumacher achieved in the late 1990s and early 2000s.
"He (Sebastian Vettel) could very well turn out to be another (Michael) Schumacher," Jones told Speedcafe.com.
"When he went to Ferrari they were not exactly dominating and Vettel might just pull them together.
"It could very well be the formula which is needed for them to have success.
"The old phrase 'a change is as good as a holiday' fits and it will be a lovely honeymoon for a while.
"They will be bending over backwards to please him and he will be doing his utmost to put in a good performance for them.
"I think for the first half of this year we will see them both trying to do the best for one and other.
"I think irrespective of what you think of them they are good for Formula 1. If Ferrari is successful so is Formula 1."
Signs of Ferrari's recovery have begun to emerge in pre-season testing with the new SF15-T showing flashes of true pace alongside impressive reliability.
The team racked up the second highest mileage of all the squads in testing with Vettel and Kimi Raikkonen half a second adrift of the pacesetting Mercedes on combined times.
The squad's new test driver Jean-Eric Vergne has already been impressed by the team's attitude in the off season and is confident the changes made will bring results.
"The target is obviously to be at the front and to win races but I don't think there is any need to put pressure on the team," Vergne told Speedcafe.com.
"I think what they did and what they are doing is to create a great spirit of success so far everything has gone in the right direction.
"Ferrari is the most successful team in F1 history so all we want is to get back to victory.
"I wouldn't say where we stand in the rankings yet but I do feel a high level of motivation from everyone in the team to get back on the top of the podium."