Ricciardo aggression key to F1 success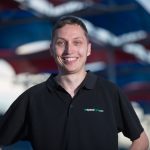 Daniel Ricciardo's new-found aggression is the key to the Australian becoming a world F1 champion according to former team-mate Jean-Eric Vergne.
Speaking with Speedcafe.com ahead of this weekend's Rolex Australian Grand Prix in Melbourne Vergne said Ricciardo's 2014 success, when he netted three GP victories, was largely due to his forceful resolve.
The Frenchman is well versed to speak about Ricciardo's inner qualities having been his team-mate in junior formulae before spending two years together in Formula 1 at Toro Rosso.
Ricciardo emerged as F1's brightest star last season with wins in Canada, Hungary and Belgium which saw him as the only driver to defeat either Mercedes driver Lewis Hamilton or Nico Rosberg.
Having contested 39 grands prix as his opposite number at Toro Rosso, Vergne says he marked Ricciardo as a special talent when they were team-mates in Formula Renault 2.0 in 2008.
After having separate spells at Carlin in British F3, the pair arrived at Tech 1 Racing in Formula Renault 3.5 in 2010 ahead of their F1 promotion.
"I think Daniel has improved his racing a lot and his fighting spirit, it was really good last year," Vergne told Speedcafe.com.
"I think that probably what he was lacking before was some aggression, that is where he improved last year and that is why he performed so well.
"He has the potential to be a world champion and I wish him the best. I thought that since the first year we raced together in 2008.
"Unfortunately in F1 it depends a lot on the car you have so lets see where the Red Bull stands compared to everyone else.
"As a driver I really like him and I wish him the best."
This season the Perth native will ultimately lead the Red Bull team following the departure of four-time world champion Sebastian Vettel to Ferrari and the arrival of Daniil Kvyat from Toro Rosso.
Despite the changes in the team structure, Vergne expects little to change in terms of pressure for Ricciardo this season.
"I don't think there is any pressure in leading a team. In Red Bull I don't think that exists," Vergne said.
"I think he did a great job last year and I see him going on the same path and doing the same good job.
"I think he will be the same guy despite leading the team."
Having ultimately lost out to Ricciardo as Mark Webber's replacement at Red Bull for 2014, Vergne, who is now a test driver at Ferrari, says he harbours no anger following the decision.
Instead, he is already setting his sights on the next time the duo will do battle in F1.
"I believe that we are still both really young and that one day we will get the chance to fight again for wins and I would definitely love this.
"I don't feel any anger, I am really happy for him.
"He is obviously doing a great job winning races and we have always been very close."