Lowndes: Engineer relationship will take time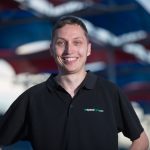 Craig Lowndes says it will take time to forge a successful relationship with new engineer Grant McPherson after a mixed start at the Clipsal 500 Adelaide.
The Red Bull driver has been paired with former Prodrive Racing Australia recruit McPherson for the new season, following the departure of engineer Jeromy Moore to Porsche's LMP1 sportscar program.
Having seen his seven season partnership with Moore come to end, Lowndes claimed he was pleased with how McPherson slotted into the champion team at last week's Clipsal 500.
The three-time V8 Supercars champion finished fourth, third and ninth in the three races at Adelaide to leave the event sixth in the series standings.
Although positive after the opening round, the 40-year-old admits it could take up three meetings before the pair gel and perform at their best.
"Grant and I worked really well together and we made the car faster over the weekend," Lowndes told Speedcafe.com.
"We are slowly moving forward. We would like to be up the front and closer now but its going to take some time for us to gel and get everything right.
"He now has a much better indication of how I function and how I operate. I think it was a positive start.
"It will take a meeting or two for us to gel, but I don't think it will take us too long (because) over the course of the weekend our communication and everything else you want is there now."
McPherson also left Adelaide pleased with the growing relationship, but admits that qualifying has emerged as a major area for improvement.
Lowndes' Sunday was heavily compromised by qualifying just 14th; a result which came after taking the risk of doing just one green tyre run failed to pay off.
The #888 Holden had earlier started Saturday's two races from eighth and seventh respectively, lapping more than 0.5s adrift of pole-sitting team-mate Jamie Whincup on both occasions.
"I think qualifying results are setup-related and, for me, trying to understand the differences between a race setup and a qualifying setup with these cars, so knowing exactly what tools we've got to work with to deliver the right qualifying car for Craig. It differs a lot between Prodrive and Red Bull," said McPherson.
"I think it was really good for us to work together properly with the pressure piled on. I think our personalities are still clicking and developing that relationship there.
"I think technically, we're still trying to understand what type of car Craig wants and how to give it to him, but I think we made some good progress there."
The engineer change comes just a season after Lowndes' team-mate Whincup was paired with a new engineer in David Cauchi after the promotion of Mark Dutton to team manager.
Lowndes says it is difficult to compare his situation to Whincup last year due to the fact McPherson has arrived from a rival team, while Cauchi was awarded an intra team promotion.
"Cauchi had a lot of help in the background. They (Jamie and Dave) hit the ground running but Cauchi has been in the team for a while so he knew the philosophy of the team," said Lowndes.
"Grant has come from a completely different team and has a different outlook so its a bit more of an eye opener."
Next weekend's non championship round at the Australian Grand Prix will provide another valuable opportunity for the pair to refine their relationship before the championship heads to Symmons Plains on March 27-29.
"The beauty is now we have the non-championship round where we can have fun and work on the car speed," added Lowndes.
"Every weekend we will get stronger, the beauty for me is every time we went out the car got better and I'm confident the future is bright. Hopefully we can just fast track it a bit."