Mostert 'gutted' after late Whincup clash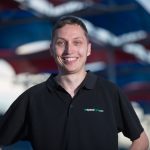 Chaz Mostert described his end to the Clipsal 500 as "gutting" after a clash with Jamie Whincup on the final lap cost him a valuable top five finish.
The two cars made contact while Mostert attempted to sweep around the outside of Whincup for fourth place into Turn 10, sending the Prodrive Ford spinning into the concrete wall.
The incident between the PRA and Red Bull Racing drivers was investigated post race, with the stewards ruling that no breach of the rules.
Having looked likely to leave Adelaide with a sizeable haul of points, Mostert said he was gutted to miss out on a top five in one of the biggest races of the season.
The 22-year-old had finished second in Saturday's opening race before wiping out on the Turn 8 wall in the second encounter.
"I'm just really gutted there are no other words to describe it," Mostert told Speedcafe.com after Race 3.
"This is my second year coming to Clipsal and the results are exactly the same as last year.
"I'm not too sure what happened," he continued of the incident with Whincup.
"I came into Turn 8 and Jamie was a fair way in front of me. I thought he might of have an issue or something as he dropped back six to 10 car lengths.
"I out-braked him down into Turn 9 and he covered but ran a bit wide. I thought he was down on power or something like that.
"I didn't see him there I gave him in my mind enough room so if he was there he would have the chance to get out and get around."
Whincup, who survived the incident to come home in fourth, said he had slowed due to Andre Heimgartner's lapped Super Black Falcon dropping oil ahead.
The six-time champion claimed the contact with Mostert was unavoidable once the Ford driver turned into the corner.
"I've come through Turns 4-5-6-7 and I was slipping and sliding on oil. I came onto the back straight and I saw the #111 car going slowly with oil pouring out of the back," Whincup told Speedcafe.com.
"I backed it right off expecting to hit the oil I got a bit of the oil and was a bit all over the place.
"Chaz had no idea this was going on an came through flat stick and then went to pass me at the inside of the hairpin (Turn 9), so I've gone to block and he's given me a tap.
"He has driven ran around the outside of me and I think he thought he was clear and he turned in and his rear wheels hit my front wheels.
"I was trying to keep as far left as I could to give him as much room as possible but it was either hit the wall or tap his car, I had no option.
"I never like to see cars wrecked but I couldn't do anything about it. I was an innocent bystander."