McLaughlin fired up to kick start V8 bid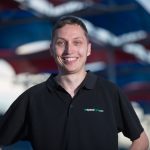 Scott McLaughlin is determined to kick his V8 Supercars campaign into life following a disastrous opening to the Clipsal 500.
The Garry Rogers Motorsport driver was left fuming after a jump start penalty initially took him out of the lead in Saturday's Race 2.
McLaughlin, who crossed the finish line in third, was demoted to ninth having been penalised further for taking the jump start penalty under Safety Car period which contravenes sporting regulations.
To make matters worse, an oil pump failure on the formation lap of Race 1 had ruled McLaughlin out of the first 39 lap contest, which he was due to start from third on the grid.
Having showcased once again that the Volvo S60 is a contender for race wins, the 21-year-old has vowed to deliver a result in the marquee 250km Sunday race.
"I'm fired up now for sure and just ready to go out and perform," McLaughlin told Speedcafe.com.
"I think we have a got a good shot. Our car is fast and we have shown we can qualify up the front.
"In the race we have one of the best race cars out there as we showed in the (Saturday) races.
"To pull away from people and catch and pass (Craig) Lowndes (in Race 2) showed that we have got real pace.
"The car is mega. We ran up the front and it (Race 2) was probably one of best races ever, I certainly had a bit of red mist going on.
"We are going to fight back."
A strong result would be just rewards for the Garry Rogers Motorsport team, which managed to complete a full engine change in the #33 S60 between Saturday's twin races.
"The bunch of boys and girls at GRM are amazing. They have done things like change the engine three times before and I can't thank them enough," added McLaughlin.
Although aggrieved by the way Race 2 unfolded, McLaughlin admitted he jumped the start and fully understands why he was given a second penalty.
The Volvo Polestar Racing squad did discuss the possibility of appealing the result of the race.
"I obviously jumped the start," added McLaughlin.
"We did it (the penalty) in front of a V8 Supercar official who took the time.
"I believed we had done our penalty but there is a rule that says we can't do it under the Safety Car and I understand that.
"At the end of the day we understand the rule and I'm not complaining it was just the fact we never got stopped."