Fane hit with $10k fine following Utes crash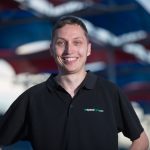 Stewards handed V8 Utes driver Geoff Fane a $10,000 fine and exclusion from the Clipsal 500 meeting following an ugly incident in the final race.
Fane was found guilty of breaching CAMS National Competition Rules (NCR) 183 (ix) for his role in the collision with Bruce Oaklands in the third Ute race at the Adelaide Parklands circuit.
Oaklands made heavy contact with the pit straight wall after being hit by Fane with the latter exiting his car and remonstrating in the aftermath to the incident.
The rule states; 'any action which causes or is reasonably likely to cause damage to other persons or property.'
Fane made side-to-side contact at Turn 13 with Oaklands before appearing to push the #41 ute into the pit wall at high speed in the closing stages of the race.
The incident, which shortened the race, was immediately investigated by the stewards, who excluded Fane from the meeting.
The $10,000 fine sees $5,000 suspended until December 31.
Both drivers were taken to the circuit's medical centre where it was confirmed the pair avoided injury.
"I'm feeling okay, the medical staff were great, but I'm sure I'll be sore tomorrow," Oaklands said.
"It took me by surprise to be hit so hard but it was definitely a big impact."
Kris Walton edged former champion Ryal Harris to victory in the final V8 Utes encounter of the weekend.
See below in-car footage of the incident