Record breaking Whincup claims pole double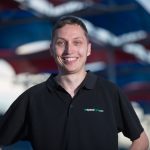 Jamie Whincup shattered the qualifying lap record to claim pole positions for Saturday's two 125km races at the Clipsal 500 Adelaide.
The six-time V8 Supercars champion was untouchable in the two 10 minute qualifying sessions as he lowered the qualifying lap record at the Adelaide Parklands circuit.
Whincup recorded 1:20.09s and 1:20.03s bests in the two sessions to undercut the previous record by almost 0.4s.
The Red Bull Holden driver undercut Brad Jones Racing's Fabian Coulthard by a sizeable 0.34s in the dying moments of the opening hit-out.
"I just got one of those laps where the car just hooked up," said Whincup.
"It all just seemed to fall my way.
"It's fantastic to be on pole. It's and amazing feeling but pay day is tomorrow."
Volvo Polestar Racing's Scott McLaughlin will start third in Race 1 ahead of Chaz Mostert, James Courtney and Michael Caruso in the top Nissan.
Lee Holdsworth was an impressive seventh on debut in the Walkinshaw Racing-run Charlie Schwerkolt Holden.
Craig Lowndes, Jason Bright and James Moffat rounded out the top 10.
Whincup continued his impressive pace in the second session as he hit the top of the time sheets shortly after the halfway mark.
McLaughlin will join him on the front-row for Race 2, with the Volvo driver 0.28s adrift in second.
Courtney was third fastest in front of Coulthard and Shane van Gisbergen, who had managed just 11th in the earlier session.
Marcos Ambrose will start Saturday's races from 24th position. The former two-time V8 Supercars champion only joined the second session late after his team carried out work on the Falcon.
Tim Blanchard is set to start last for both races after mechanical trouble saw him miss the entire opening 10 minute run.
VIDEO: V8 Supercars Qualifying Race 1 Highlights


VIDEO: V8 Supercars Qualifying Race 2 Highlights

V8 Supercars: Race 1 Qualifying, Clipsal 500 Adelaide
| | | | | | |
| --- | --- | --- | --- | --- | --- |
| 1 | Red Bull Racing Australia | Jamie Whincup | Holden Commodore VF | 01:20.09 | |
| 2 | Freightliner Racing | Fabian Coulthard | Holden Commodore VF | 01:20.43 | 00:00.34 |
| 3 | Wilson Security Racing GRM | Scott McLaughlin | Volvo S60 | 01:20.51 | 00:00.42 |
| 4 | Pepsi Max Crew | Chaz Mostert | Ford Falcon FG/X | 01:20.71 | 00:00.62 |
| 5 | Holden Racing Team | James Courtney | Holden Commodore VF | 01:20.72 | 00:00.63 |
| 6 | Nissan Motorsport | Michael Caruso | Nissan Altima | 01:20.82 | 00:00.72 |
| 7 | Walkinshaw Racing | Lee Holdsworth | Holden Commodore VF | 01:20.86 | 00:00.76 |
| 8 | Red Bull Racing Australia | Craig Lowndes | Holden Commodore VF | 01:20.90 | 00:00.81 |
| 9 | Team BOC | Jason Bright | Holden Commodore VF | 01:20.91 | 00:00.81 |
| 10 | Nissan Mororsport | James Moffat | Nissan Altima | 01:20.92 | 00:00.82 |
| 11 | Team TEKNO Darrell Lea | Shane Van Gisbergen | Holden Commodore VF | 01:20.96 | 00:00.87 |
| 12 | Pepsi Max Crew | Mark Winterbottom | Ford Falcon FG/X | 01:21.01 | 00:00.92 |
| 13 | Supercheap Auto Racing | Tim Slade | Holden Commodore VF | 01:21.02 | 00:00.93 |
| 14 | The Bottle-O Racing Team | David Reynolds | Ford Falcon FG | 01:21.02 | 00:00.93 |
| 15 | Holden Racing Team | Garth Tander | Holden Commodore VF | 01:21.04 | 00:00.95 |
| 16 | Nissan Motorsport | Todd Kelly | Nissan Altima | 01:21.20 | 00:01.11 |
| 17 | Nissan Motorsport | Rick Kelly | Nissan Altima | 01:21.22 | 00:01.13 |
| 18 | Erebus Motorsport V8 | Will Davison | Mercedes E63 AMG | 01:21.25 | 00:01.16 |
| 19 | Erebus Motorsport V8 | Ashley Walsh | Mercedes E63 AMG | 01:21.34 | 00:01.25 |
| 20 | Repair Management Aust Racing | Nick Percat | Holden Commodore VF | 01:21.35 | 00:01.26 |
| 21 | Team GB Galvanizing | Dale Wood | Holden Commodore VF | 01:21.41 | 00:01.32 |
| 22 | Super Black Racing | Andre Heimgartner | Ford Falcon FG | 01:21.51 | 00:01.42 |
| 23 | Wilson Security Racing GRM | David Wall | Volvo S60 | 01:21.52 | 00:01.43 |
| 24 | DJR Team Penske | Marcos Ambrose | Ford Falcon FG/X | 01:21.58 | 00:01.49 |
V8 Supercars: Race 2 Qualifying, Clipsal 500 Adelaide
| | | | | | |
| --- | --- | --- | --- | --- | --- |
| 1 | Red Bull Racing Australia | Jamie Whincup | Holden Commodore VF | 01:20.03 | |
| 2 | Wilson Security Racing GRM | Scott McLaughlin | Volvo S60 | 01:20.32 | 00:00.28 |
| 3 | Holden Racing Team | James Courtney | Holden Commodore VF | 01:20.34 | 00:00.31 |
| 4 | Freightliner Racing | Fabian Coulthard | Holden Commodore VF | 01:20.46 | 00:00.43 |
| 5 | Team TEKNO Darrell Lea | Shane Van Gisbergen | Holden Commodore VF | 01:20.50 | 00:00.47 |
| 6 | The Bottle-O Racing Team | David Reynolds | Ford Falcon FG | 01:20.52 | 00:00.49 |
| 7 | Red Bull Racing Australia | Craig Lowndes | Holden Commodore VF | 01:20.56 | 00:00.53 |
| 8 | Supercheap Auto Racing | Tim Slade | Holden Commodore VF | 01:20.57 | 00:00.54 |
| 9 | Pepsi Max Crew | Chaz Mostert | Ford Falcon FG/X | 01:20.60 | 00:00.57 |
| 10 | Pepsi Max Crew | Mark Winterbottom | Ford Falcon FG/X | 01:20.63 | 00:00.60 |
| 11 | Holden Racing Team | Garth Tander | Holden Commodore VF | 01:20.66 | 00:00.63 |
| 12 | Nissan Motorsport | Michael Caruso | Nissan Altima | 01:20.71 | 00:00.68 |
| 13 | Walkinshaw Racing | Lee Holdsworth | Holden Commodore VF | 01:20.74 | 00:00.71 |
| 14 | Nissan Mororsport | James Moffat | Nissan Altima | 01:20.89 | 00:00.86 |
| 15 | Erebus Motorsport V8 | Ashley Walsh | Mercedes E63 AMG | 01:20.98 | 00:00.95 |
| 16 | Team GB Galvanizing | Dale Wood | Holden Commodore VF | 01:21.06 | 00:01.02 |
| 17 | Erebus Motorsport V8 | Will Davison | Mercedes E63 AMG | 01:21.07 | 00:01.04 |
| 18 | Nissan Motorsport | Rick Kelly | Nissan Altima | 01:21.08 | 00:01.04 |
| 19 | Nissan Motorsport | Todd Kelly | Nissan Altima | 01:21.09 | 00:01.06 |
| 20 | Team BOC | Jason Bright | Holden Commodore VF | 01:21.10 | 00:01.07 |
| 21 | Wilson Security Racing GRM | David Wall | Volvo S60 | 01:21.14 | 00:01.11 |
| 22 | Repair Management Aust Racing | Nick Percat | Holden Commodore VF | 01:21.16 | 00:01.13 |
| 23 | Super Black Racing | Andre Heimgartner | Ford Falcon FG | 01:21.45 | 00:01.42 |
| 24 | DJR Team Penske | Marcos Ambrose | Ford Falcon FG/X | 01:22.01 | 00:01.97 |
| 25 | Team Cooldrive | Tim Blanchard | Holden Commodore VF | 01:22.81 | 00:02.77 |