Dominant Waters secures Dunlop Series pole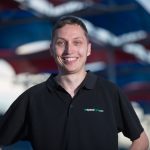 Cameron Waters has claimed the first Armor All pole position of the Dunlop Series season at the Clipsal 500 Adelaide.
The Prodrive Racing Australia driver, who topped the earlier practice sessions, continued his domination of the event with an impressive 1.21.6873s effort to take pole by a healthy 0.6589s margin over Chris Pither.
Pither, in the Ice Break Ford Falcon, starred late in the session with the Kiwi jumping ahead of reigning Dunlop Series champion Paul Dumbrell, who ended the session in third.
Andrew Jones will line up for the opening race in fourth ahead of Eggelston Motorsport Garry Jacobson, who was fortunate to escape two spins during the 15 minute hit-out.
THR Developments drive Taz Douglas was sixth with Ant Pedersen seventh in front of Josh Kean, who secured his best qualifying result in the category to date.
Jack Le Brocq and Todd Hazelwood rounded out the top 10.
Macauley Jones topped the times in the first 15 minute session for the bottom 50 percent of the field and will subsequently start from 14th on the grid.
Kurt Kostecki was lucky to avoid heavy damage after he ran wide at Turn 13, but Chelsea Angelo was not so lucky as a mistake saw her damage the front right of her car forcing the Australian F3 driver into the pits.
As a result, Angelo will start from the back of the grid after failing to emerge from pit lane in the remainder of the session.
Fellow newcomer Renee Gracie showed flashes of pace on her debut in the category with the Paul Morris Motorsport racer qualifying in 21st position alongside team-mate and debutant Bryce Fullwood.
Result: Dunlop Series Qualifying 
| | | | | | |
| --- | --- | --- | --- | --- | --- |
| Position | Team | Driver | Car | Time | Gap |
| 1 | TEAM ENZED PDR | Cameron Waters | Ford Falcon FG | 1:21.6959 | |
| 2 | Icebreak Racing | Chris Pither | Ford Falcon FG | 1:22.3548 | 0:00.6589 |
| 3 | Eggleston Motorsport | Paul Dumbrell | Holden Commodore VE2 | 1:22.4137 | 0:00.7178 |
| 4 | Team Advam | Andrew Jones | Holden Commodore VE2 | 1:22.6765 | 0:00.9806 |
| 5 | Eggleston Motorsport | Garry Jacobson | Holden Commodore VE2 | 1:22.6981 | 0:01.0022 |
| 6 | THR Developments | Taz Douglas | Holden Commodore VE2 | 1:22.8929 | 0:01.1970 |
| 7 | Eggleston Motorsport | Ant Pedersen | Holden Commodore VE2 | 1:22.9974 | 0:01.3015 |
| 8 | Wynns Racing | Josh Kean | Holden Commodore VE2 | 1:23.1347 | 0:01.4388 |
| 9 | MW Motorsport | Jack Le Brocq | Ford Falcon FG | 1:23.4440 | 0:01.7481 |
| 10 | Matt Stone Racing | Todd Hazelwood | Ford Falcon FG | 1:23.6172 | 0:01.9213 |
| 11 | Davebridge Constructions | Shae Davies | Ford Falcon FG | 1:23.6310 | 0:01.9351 |
| 12 | Plus Fitness / Go Karts Go | Aaren Russell | Ford Falcon FG | 1:23.7931 | 0:02.0972 |
| 13 | Challenger / Schweppes Aust | Brett Hobson | Holden Commodore VE2 | 1:23.8565 | 0:02.1606 |
| 14 | Brad Jones Racing | Macauley Jones | Holden Commodore VE2 | 1:23.9934 | 0:02.2975 |
| 15 | Super Black Racing | Simon Evans | Ford Falcon FG | 1:24.0596 | 0:02.3637 |
| 16 | Gippsland Body Builders GRM | James Golding | Holden Commodore VE2 | 1:24.0994 | 0:02.4035 |
| 17 | United Racing | Paul Morris | Ford Falcon FG | 1:24.1157 | 0:02.4198 |
| 18 | Hayman Reese | Jesse Dixon | Ford Falcon FG | 1:24.7219 | 0:03.0260 |
| 19 | Street Fighter Performance | Dan Day | Holden Commodore VE2 | 1:24.8170 | 0:03.1211 |
| 20 | Warrin Mining Volvo CE | Adam Wallis | Holden Commodore VE2 | 1:25.3622 | 0:03.6663 |
| 21 | Fujitsu Racing | Renee Gracie | Ford Falcon FG | 1:25.6037 | 0:03.9078 |
| 22 | Bryce Fullwood Racing | Bryce Fullwood | Holden Commodore VE | 1:25.7819 | 0:04.0860 |
| 23 | Matt Hansen Racing | Matt Hansen | Holden Commodore VE2 | 1:25.7925 | 0:04.0966 |
| 24 | Arcoplate / Penrite | Kurt Kostecki | Holden Commodore VE2 | 1:25.8361 | 0:04.1402 |
| 25 | Rsport Race Engineering | Matt Chada | Holden Commodore VE2 | 1:26.3188 | 0:04.6229 |
| 26 | Battery World Racing | Aaron McGill | Holden Commodore VE2 | 1:26.8397 | 0:05.1438 |
| 27 | Jamie Sharp Racing | Jamie Sharp | Holden Commodore VE2 | 1:29.5520 | 0:07.8561 |
| 28 | THR Developments | Chelsea Angelo | Holden Commodore VE2 | 1:35.5838 | 0:13.8879 |