Daytona win adds DJR Team Penske V8 pressure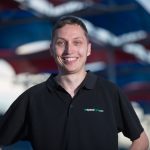 Penske's Daytona 500 victory will add pressure on its V8 Supercars operation to perform at the Clipsal 500, according to DJR Team Penske team manager Jeff Swartwout.
Joey Logano gave the American giant its second triumph at NASCAR's showpiece event just days before V8 Supercars' traditional Clipsal 500 season opener on the Adelaide streets.
Having celebrated the victory, Roger Penske, who took over a 51 percent share in Dick Johnson Racing last year, travels to Australia to watch Marcos Ambrose amid a crammed business schedule.
DJRTP boss Swartwout says the one-car squad was already facing a considerable challenge this weekend.
"That's going to be a tough act to follow," Swartwout told Speedcafe.com in reference to Logano's triumph.
"The first event of the season and they knock it out of the park.
"Roger (Penske) and Tim (Cindric) will be in good form when they come here and I'm sure they will be expecting a similar result, so we will have to try and do our best to uphold the banner.
"It can't help but increase a little bit of pressure obviously. I've worked very hard to keep expectations in check and trying to be pragmatic about things.
"The team is in good spirits.
"A lot of the guys haven't had a chance to meet Roger yet and the terrific thing about him is he is very sincere.
"He (Roger) will ask a lot of questions and hopefully we are up to the task and have the right answers for him."
However, Swartwout says the team's expectations remain unchanged heading into its first V8 event competing as an American/Australian alliance.
Having witnessed his troops work frantically to ready Ambrose's #17 Falcon FGX for the season opener, he feels running inside the top 15 throughout the weekend is a realistic target for Ambrose, following a positive test at Sydney Motorsport Park earlier this month.
"This will be the real litmus test we will see where everyone is," added Swartwout.
"I think we are in pretty good shape with that but as for expectations for the weekend I would be very happy if we could stay inside the top 15."
"I think based on the open test you don't really know what guys are doing there so you have to take things with a grain of salt.
"But the most encouraging news I took away from the test was that Marcos was much happier with the feel of the car."