Johnson eyes overseas races as V8 options fade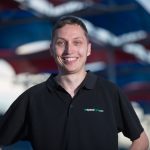 Steven Johnson is hopeful an Australian GT tilt will open doors to overseas events as he faces the possibility of a season without a Pirtek Enduro Cup seat.
The 40-year-old Queenslander confirmed a move into GT racing this week after completing a deal to pilot the Jamec Pem Audi R8 LMS GT3 alongside owner Steve McLaughlan.
Having spent the majority of his career in V8 Supercars, the move represents a new challenge for the veteran of 418 Australian touring car races.
The son of Australian touring car legend Dick Johnson has become a keen admirer of GT racing, fuelled by the success of the Bathurst 12 Hour and the growth of the category worldwide.
While eager to impress in the AGTC, Johnson is actively working on securing drives in the FIA World Endurance Championship and Blancpain Endurance Series.
Johnson, who has recently received his Silver driver grading from the FIA, is also closing in on a deal to compete in next year's Bathurst 12 Hour at the wheel of the Jamec Pem Audi.
"I'm massively excited about it as it will be the first full-time championship I've done outside of V8 Supercars since 2000," Johnson told Speedcafe.com of the AGTC program.
"The GT side of things really appeals to me here and overseas.
"Being a full-time V8 Supercar driver you really don't get the opportunities overseas that we probably could get due to our schedule and demand here.
"Now that I'm not a full-time V8 driver I can explore these options and hopefully fulfil some some bucket list items I haven't been able to do.
"The team is certainly interested in looking at doing some one-off stuff overseas but I'm also really interested in doing some other stuff, whether that is the World Endurance Championship or Blancpain Endurance Series.
"We have just got see where it ends up, but that at this stage I would really love to do some of those bigger races like Spa and Le Mans and the Daytona 24 Hours.
"Obviously Daytona is 12 months away but I'm starting to plan now to lock some of this away rather than do a last minute deal.
"I've made a few contacts while I was at the Bathurst 12 Hour and some people who are interested in hearing more from me.
"I'm on the case at the moment but there are just discussions going on at the moment.
"At this stage I'm pushing hard (to race at the Bathurst 12 Hour) and talking to Steve (McLaughlan) and his outfit and we are already talking about what we are going to do at the 12 hour next year," he added, having attended this year's race as an onlooker.
"I wouldn't say its fully locked away but we are very close."
Johnson still harbours hopes of securing a Pirtek Enduro Cup drive for this season, but is aware opportunities are fast running out.
DJR Team Penske recently confirmed that Johnson's seat from last season as co-driver of the #17 Ford will be filled by Scott Pye.
"I will be bitterly disappointed if I don't get something there this year," said Johnson of the Enduro Cup.
"They are the races I think I really excel in and I think the last couple of years I've shown that even though I haven't been full-time in V8s.
"Its very tough and there is not much available but something may pop up, you never know.
"I still enjoy V8 Supercars and would love to do Sandown, Bathurst and the Gold Coast but at the moment the field looks very full."
Johnson is set to open his GT racing career at next week's Clipsal 500 Adelaide having completed just a handful of laps in the #75 Audi during a pre-Bathurst test at Phillip Island.