Goddard joins Carrera Cup ahead of Supercup tilt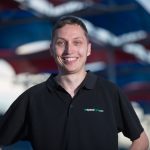 Recent Formula 1 test driver Spike Goddard will contest the opening two rounds of the Carrera Cup Australia in preparation for a tilt at the Porsche Supercup.
The 22-year-old Australian will take command of Tony Walls' McElrea Racing Carrera Cup car for next week's season opener at the Clipsal 500 Adelaide and the Australian Grand Prix meeting in March.
Having spent his career in single seaters competing in Formula Ford and F3, Goddard is now switching his focus to GT and sportscar racing following the completion of a deal to join the Porsche Supercup and German Carrera Cup grids with German squad MRS.
The Supercup drive ensures there will be two Australians on the grid of Porsche's showcase championship this season, with South Australian Sam Power locked in at Momomegatron.
Goddard's move follows two seasons in FIA European F3 and comes just three months after a Formula 1 test with Force India at Abu Dhabi, where he set the sixth fastest time out of the 11 runners.
The former British Formula 3 National Class champion jumped behind the wheel of the McElrea Porsche for a test at Queensland Raceway last week ahead of his maiden Carrera Cup race on the Adelaide streets.
"I'm using these two race weekends as testing for the Supercup campaign," Goddard told Speedcafe.com.
"I see doing two race events as very handy.
"I think the Carrera Cup in general is a very good series, it's very competitive and everyone is in the same car.
"I think career-wise the GT style stuff is the way I'm going to go. I would quite like to make it to DTM or LMP1, I see that as being a pretty good career path.
"It was only my second time ever in a Carrera Cup car, I think it went pretty well and the team was quite happy.
"I was just getting more comfortable with the car and building up the pace and comparing the difference between this and the open wheel cars I'm used to.
"I've heard Clipsal is a great event so I'm looking forward to it.
"I haven't been in a racing situation in a Porsche yet so it will all be a bit of a learning curve for me."
Goddard adds that he has not completely turned his back on single seaters.
"You never shut any doors completely because you never know what offers might come up," he said.
"I wouldn't say that door is shut but my focus is on GT type racing and I'd like to see where that can take me.
"I got the opportunity to drive the Force India F1 car which was fantastic. The team was very professional and it was pretty special and nothing will beat that moment.
"I was quite interested in helping them out with their simulator work but as I'm doing the Supercup and German Carrera Cup I don't really have a whole lot of time to help them out as much as I'd like to.
"We have that connection now and we still chat but I'm just focussing on the GT stuff."
Goddard also attended the recent Bathurst 12 Hour, which has also emerged as a race on his wish list for the near future.
"Its one race I would really like to compete in alongside Le Mans and Spa 24 Hours," added Goddard.
"The Bathurst 12 Hour keeps growing and attracting drivers and teams from all over the world."