Bentley eyeing Australian GT expansion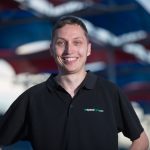 Bentley is hoping to attract more motorsport customers in Australia having showcased its Continental GT3s at the Liqui Moly Bathurst 12 Hour.
The prestige British marque is currently represented in the Australian GT Championship by Flying B Racing an offshoot of the Maranello Motorsport operation.
Entering its second full season of competitive motorsport with the Continental GT3, the manufacturer is expanding its customer program globally.
Late last year top European outfit HTP Motorsport purchased five cars, joining the Dyson Racing and Absolute Racing outfits in America's Pirelli World Challenge and the GT Asia series respectively.
Bentley has employed a strict procedure when it comes to selecting teams to represent its brand.
While remaining selective, Director of Motorsport Brian Gush is however open to the idea of more Bentley's competing in the growing Australian GT Championship.
The Australian GT Championship is expecting grids in the region of 25-30 cars this season with Ferrari, Bentley, Lamborghini, Audi, Porsche, Aston Martin, Mercedes-Benz and McLaren represented.
"We would like to see more interest in our cars from Australian GT market," said Gush.
"Australia is a V8 country so we think the car should really appeal and hopefully after Bathurst there will be more interest.
"We are set up now to sell customer cars we have shown the potential of the car so we hope to get some customers come along.
"We are not doing big numbers of these cars if we do 30 cars we will be happy."
Expanding the brand's position in the Australian motoring market played a significant role in the marque's Bathurst 12 Hour mission with the manufacturer displaying significant branding around the circuit.
Currently Bentley is experiencing growth in the market having increased its sales by 11.6 percent last year.