Le Mans winner eyeing Bathurst 12 Hour return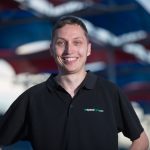 Le Mans 24 Hour winner Guy Smith says the hunger to contest next year's Liqui Moly Bathurst 12 Hour remains despite being cruelly robbed of a podium on his event debut.
The British sportscar ace spearheaded Bentley's line-up for the Mount Panorama endurance classic with Smith's #10 entry finishing fourth after being in contention to win in the closing stages.
The #10 M-Sport factory Continental GT3 emerged as a contender to take out the race with Smith's team-mate Matt Bell leading in the final hour.
Bentley is yet to decide whether it will return to the race next year although Director of Motorsport Brian Gush says a return in 2016  has not been ruled out.
The manufacturer has expanded its schedule for 2015 with the marque set to contest the Blancpain Endurance Series alongside a tilt at the Nurburgring and Abu Dhabi 24 Hour races.
"We haven't made a decision yet it still up for discussion." said Gush.
"James O'Brien (event director) introduced us to to the whole concept so he was instrumental in getting us to Bathurst.
"It's important to operate in the Australian market and it's a motorsport challenge at Bathurst.
"It's becoming an iconic endurance race with a lot of potential."
After an eventful race, which saw Bell end his first stint early due to severe dehydration, the Brit was unable to hold off the works Nissan and the polesitting #15 Phoenix Audi in the final two laps.
Bell held third spot heading into the final corner only to suffer controversial heavy contact from the Stefan Mucke's Craft Bamboo Aston Martin, dropping him to fourth at the chequered flag.
Although disappointed to miss out on a podium finish, the event has left a lasting impression on Smith, who is keen to return next year.
"Its frustrating, it would have been nice to be on the podium but I still think we can be pleased with the job we have done," Smith told Speedcafe.com.
"But with Stefan Mucke crashing into to us and taking Matt out at the final corner was really bad, as he had already taken David Brabham out and stuck him into wall a few laps earlier.
"I think the guy (Mucke) needs a bit of a talking to.
"I would like to come back next year definitely, I've really enjoyed it.
"Last year's race was a great race with Maxi Buhk going for the win and this year's race was equally exciting.
"I think its a great event its always exciting so we will see what happens.
"There are certain circuits which provide exciting racing and this is one of them."