Bentley confident of meeting repair deadline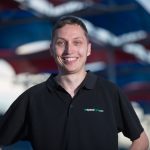 Bentley has thrown its full resources behind completing a repair on heavy structural damage in time for final practice for the Liqui Moly Bathurst 12 Hour.
The British squad's Bathurst 12 Hour debut was thrown into turmoil in the third practice session when the #11 car hit the wall on the exit of The Cutting.
After a thorough investigation, the team confirmed the car had encountered chassis damage with work carried out through the night in a building behind the pit paddock.
The factory #11 Continental GT3 was being driven by Andy Soucek at the time of the accident when the car suffered significant damage to the front right and rear.
M-Sport, which is only in its second year of circuit racing, is confident the car will be ready for the fifth and final practice hit out ahead of this afternoon's qualifying sessions.
"We are hopeful that it can be repaired," said a Bentley spokesman with its crew comprising of some of M-Sport's World Rally Championship personnel.
"There is one small piece of chassis damage we cannot fix but everything else we have spare parts for.
"I hope it will be ready for practice if anyone can deliver this then it is this team of mechanics.
"These are all Bentley M-Sport guys who are used to fixing World Rally Cars.
"They did it last year at Monza (after an accident in a Blancpain race) so I hope they can do it again here."
Bentley director of motorsport Brian Gush admitted it was not the greatest of starts for his squad but is confident the team will bounce back.
"It's certainly not the best start to the year, but we have the best people on the job," said Gush.
Despite losing a significant amount of track time, new Bentley recruit Maxi Buhk says he will be drawing from the experience of last year when he was part of the HTP Mercedes squad, who also suffered a heavy shunt in practice.
"It's a bit of a challenge for us having had the damage to the car but never say never," Buhk told Speedcafe.com.
"We had the same situation last year with HTP Motorsport and we finished second overall maybe this year will be even better.
"The team will fix it for sure."
Practice 5 starts at 7.45am with qualifying scheduled for 12.55pm while a shootout for Class A runners is at 14.05pm local time.
*Speedcafe.com's Bathurst 12 Hour news powered by Nissan.
*For more Bathurst 12 Hour features view Speedcafe.com's ultimate Bathurst 12 Hour Guide powered by Nissan.