Kiwi Ferrari emerges as Bathurst 12H darkhorse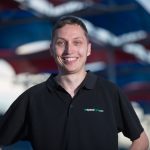 Trass Family Motorsport has recovered from a belated Mount Panorama arrival to become the surprise performer on the opening day of the Liqui-Moly Bathurst 12 Hour.
The all-Kiwi squad eventually arrived at the circuit at 9pm on Thursday night after being delayed by a freight delay.
As a result, the squad spent the majority of Thursday night preparing its Ferrari 458 Italia which left mechanics with two hours sleep before Friday's opening practice session.
Despite being hamstrung by the delay, the newly formed team emerged as one of the most consistent performers showing up several more experienced outfits.
The Jono Lester, John McIntyre and Graeme Smyth driven Ferrari finished inside the top six in three of the four one hour practice sessions.
Having held doubts the car would even arrive at the event in time, Lester says hard work on track has repaid the effort from the team overnight.
The 25-year-old has been impressed by the pace the car has shown despite the rush to prepare it and feels a tilt at the amateur class is possible.
"We had a very modest goal for today and obviously bigger goals further into the weekend but I'm delighted," Lester told speedcafe.com.
"We thought if we could be in the top half of Class A then that would be good so to be P4 and P6 in those first couple runs we are stoked.
"It's a payback to the team for working all night everybody is on a really good buzz.
"We cannot thank them enough and now we have just got to transfer this into qualifying.
"The boys worked so hard and got only a couple of hours of sleep.
"Last Friday I wanted to cry when I found out about the delay but at that point in time we didn't even know if the car was going to even get here.
"The car is great and it is instilling confidence in us. Obviously there is a lot to go and we will just keep working to a plan .
"Its a huge confidence boost for us. We are a rookie team with rookie drivers we all think we know what we can do but you can never really properly see until you get here.
"I still think our goal of a top 10 overall is going to be incredibly difficult to attain but in the am class now we should be going for the win."
The final practice session starts tomorrow at 7.45pm ahead of qualifying at 12.55pm with a Class A shootout at 14.05pm.
*Speedcafe.com's Bathurst 12 Hour news powered by Nissan.
*For more Bathurst 12 Hour features view Speedcafe.com's ultimate Bathurst 12 Hour Guide powered by Nissan.