Bathurst key for BTCC ace's career expansion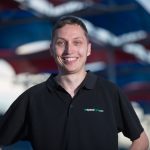 Former British Touring Car champion Gordon Shedden hopes a strong run at the Bathurst 12 Hour will open the doors to more GT opportunities.
The 2012 BTCC champion has joined the compareinsurance.com.au Motionsport squad once again for the Mount Panorama classic behind the wheel of the British outfit's Aston Martin Vantage GT3.
The factory Honda BTCC driver says  he is hoping a competitive run in GT3 machinery will open up further sportscar opportunities alongside his touring car commitments.
Equipped with upgraded machinery compared the Class C Lotus Exige he campaigned last year, the Scot, who will join Brits Pete Storey and Ben Gower in the Motionsport entry, feels he now has a great chance to impress on Australian soil.
"It's a big challenge but I'm thankful for the opportunity to get back out again with Motionsport, Ben and Pete," Shedden told Speedcafe.com.
"It's important to break the thought that I'm just a touring car driver.
"I am a touring car driver but I can race anything and I think its important to show that I can switch disciplines without issue.
"Touring cars is going from strength to strength with Honda but it is a UK program and it is only 10 weekends a year so as long as there is no conflict of interest they are more than happy to do other things like GT racing.
"At the minute I'm hopeful I will be able to do some more GT races."
Racing alongside Gower and Storey, Shedden is confident the trio can contend for the Gentleman's Trophy class.
"I've done a bit of coaching with the other two drivers," added Shedden.
"We have had Ben and Pete in the simulator at Darren Turner's Base Performance.
"We have done our preparation, its different when you actually get there but if we approach it in the right way we will be challenging for the pro-am class."
*Speedcafe.com's Bathurst 12 Hour news powered by Nissan.
*For more Bathurst 12 Hour features view Speedcafe.com's ultimate Bathurst 12 Hour Guide powered by Nissan.