Maranello secures McDonald's Bathurst backing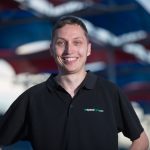 Australian GT team Maranello Motorsport has agreed a three-year sponsorship deal with fast food giant McDonald's for the Liqui Moly Bathurst 12 Hour.
The reigning race winning Ferrari 458 GT3  will carry striking McDonald's branding beginning at this year's Mount Panorama endurance classic from February 6-8.
The arrangement with the iconic McDonald's brand represents a significant moment in Australian GT racing.
Maranello Motorsport team owner Mark Coffey says that the sponsorship deal is the result of the Bathurst 12 Hour's expanded television coverage, which will see the entire race broadcast live on the Seven network.
The race's deal with Seven is currently a one-year contract, with organisers hoping that a strong debut will lead to a permanent slot on the free-to-air network.
"The sponsorship deal means everything to us," Coffey told Speedcafe.com.
"We have come from a category which has been largely supported by amateur customer drivers and it is now turning into a category which is attracting professional drivers, and television packages make all the difference.
"Its a good three-year deal with the national group and that is the sort of thing live TV does. When you are in a position to sell proper television packages things like this just work."
At this stage the deal is in place for Bathurst 12 Hour races but Coffey is hopeful the sponsorship agreement could expand into selected rounds of the Australian GT Championship.
"We are very pleased to partner with Maranello Motorsport as they look to go back-to-back in the upcoming Bathurst 12 Hour race," said a McDonald's Australia spokesperson.
"The Bathurst 12 Hour is without doubt the premier event on the Australian racing calendar – it's great to be a part of the action."
Maranello is hoping to defend its Bathurst 12 Hour title with a strong driver line-up, consisting of Formula 1 veteran Mika Salo, V8 Supercars co-driver Tony D'Alberto and Ben Collins, the former Stig from BBC television show Top Gear.
The star of last year's successful campaign, Craig Lowndes, is unavailable for February's effort due to a clash with V8 Supercars' pre-season test day, while fellow 2014 winners John Bowe and Peter Edwards have shifted to Maranello's new sister Bentley entry.
"Its a strong defence and it was important for us to build something that would put us in a position to defend the race," added Coffey of his new line-up.
"We are pretty happy with the driver line-up. Ben Collins came out of left field really but I'd been aware of some of his driving capabilities through the Ferrari network.
"The fact that he has been to Mount Panorama is very important too, its all about knowing the place and staying out of trouble."
As revealed by Speedcafe.com earlier this month, Collins has snuck into the race as an unseeded driver due to his limited recent racing.