Big shoes to fill for Aussie Jack Miller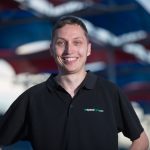 MotoGP rookie Jack Miller admits he has plenty of work ahead to live up to Australia's rich history in grand prix motorcycle racing.
The 20-year-old from Townsville is the country's latest star in the making having secured a lucrative three-year MotoGP premier class contract with Honda.
Miller's rise to prominence has come after several years competing in motocross in Australia before three seasons in the Moto3 class, culminating in a runner-up finish in the championship last year.
After catching the attention of bosses at Honda last year, the Queenslander will join the LCR Honda squad in motorcycle's premier class following in the footsteps of Australia's grand prix superstars Wayne Gardner, Mick Doohan and Casey Stoner.
With Gardner, Doohan and Stoner recording eight world titles between them, Miller admits it would be a huge honour if he could come anywhere close to what his predecessors have achieved.
"Casey (Stoner) and (Mick) Doohan were special people and also (Wayne) Gardner. They were the best at what they did at their time," Miller told Speedcafe.com.
"But we are still a long way from that and still have a bit to go. I will give it 100 percent and if I can be half as good as those guys were I'd be really happy.
"I'm just so stoked to be able to ride a bike for another year and manage to make a little bit of money out of it which is just awesome."
Jumping straight from a Moto3 bike to the 200 horsepower plus grand prix Honda represents a huge challenge but so far he has impressed in two tests on the LCR machine.
Although hype surrounding Miller is growing ahead of his MotoGP race debut, the young Australian is keeping his own expectations in check.
"Honda haven't put any pressure on us just yet. But you want to win so we are going to be pushing it and we'll see what happens," added Miller.
"I'd like to have top fives but I mean that is a long way away. But I think yes a realistic goal is a top 10 position.
"Honda are definitely saying its a learning year. The only pressure really is what you put on yourself and I think I'm pretty hard on myself."
After years of idolising greats such as Valentino Rossi and Jorge Lorenzo, Miller admits there will be plenty of nerves on the starting grid for the season opener at Qatar's Losail circuit on March 29.
"It's still quite surreal at the moment. I don't think it will fully sink in until we are lining up on the grid in Qatar," said Miller.
"I'll probably be s***ing myself wishing it would all end but once the lights go out and the racing starts then its alright."
Miller is due to leave Australia, where he has spent Christmas and New Year, for a test aboard the LCR Honda at Malaysia's Sepang circuit from February 4-7.
The test comes just eight weeks after undergoing surgery on a pre-existing shoulder injury.