The Stig laughs off 'amateur' Bathurst tag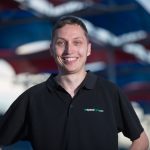 The Bathurst 12 Hour's driver regulations have again been thrust into the spotlight, with this year's list of unseeded competitors including Top Gear's former Stig, Ben Collins.
Lauded for his sublime driving skills during eight years on the hit television program, Collins boasts a wealth of experience in top level motorsport.
During a lengthy career, the 39-year-old has contested the prestigious Le Mans 24 Hours, the Bathurst 1000, Indy Lights, the British Touring Car Championship and more recently GTs, driving Ferrari 458s for Ram Racing and Krohn Racing .
Collins will however line-up as the unseeded driver in Maranello Motorsport's reigning race winning Ferrari, joining former V8 Supercars driver Tony D'Alberto and ex-Formula 1 veteran Mika Salo.
In a bid to ensure that amateurs remain a chance to win the race, event regulations stipulate teams can field no more than two seeded drivers, which are described as "professional or semi-professionals" in the event's rules.
Up until this year Collins would have been classified as a seeded driver for the 12 Hour due to his FIA gold driver rating and the fact he has been a V8 Supercar co-driver in the last five years.
However, the Brit, who last competed at Mount Panorama six years ago for Kelly Racing, is now eligible as an unseeded driver, which has helped him secure a coveted seat at the 2014 Bathurst 12 Hour winning team.
While the move will ruffle feathers among competitors, Collins says he's pleased to be able to return to Mount Panorama.
"I've been called lots of names so its water off a duck's back but it (being an unseeded driver) meant I could compete," Collins told Speedcafe.com.
"I looked at the criteria for the race put all my details in and that is what came back, its fine by me.
"Fortunately or unfortunately I have been out of the loop for a bit for the last couple of years so that has also played well for me being unseeded.
"The ranking system is there for a reason and I respect it. It has played to my advantage on occasions and I've been on the other side of it too.
"I'm very lucky to have got this fantastic opportunity. I will respect the track and I know the car really well so it is just a matter of doing my job as best as I can."
The Maranello Ferrari will again start as one of the favourites among the 55-strong entry.