Fiore receives last gasp Dubai 24 Hour call up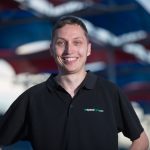 V8 Supercar enduro driver Dean Fiore has received a late call up to compete at this weekend's Dubai 24 Hour.
The Western Australian will join the MARC Cars Australia squad for the twice round the clock classic at the Dubai Autodrome as a replacement for Tony Quinn.
Fiore, who partnered Michael Caruso for the V8 Supercars Pirtek Enduro Cup last season, will pilot the #92 MARC Ford Focus V8 alongside former BTCC driver James Kaye, Qatar Radical sportscar ace Amro Al-Hamad and Touring Car Masters racer Tony Karanfilovski.
"We are really happy to have Dean join us for the race in Dubai although it is unfortunate Tony is unable to join us," said team boss Ryan McLeod.
"We're pretty excited to kick off the new season especially now the Creventic Endurance Series has been given FIA status."
The MARC Cars Australia team will field two more Focus V8s in the race with the #91 car set to be driven by Keith Kassulke, Tony Alford, Peter Leemhuis and Porsche Carrera Cup driver Duvashen Padayachee.
An all Australian line up of Jake Camilleri, Scott Nicolas, Lindsay Kearns and Malcolm Niall will drive the #93 entry.
Australia will also be represented at the race by national Formula 3 champion Simon Hodge, paraplegic racer Matt Speakman and Gerard McLeod, who will drive the #48 Zettanet Racing Honda DC5.