CAMS 2015 F4 car set for Australia debut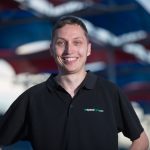 The 2015 specification CAMS Australian Formula 4 car is expected to make its track debut at a trial day later this month.
The first example of the 20 Ford powered Mygale built cars purchased by CAMS is due to be air freighted from France to Australia in the coming days.
While a version of the Mygale F4 car completed a demonstration at last year's Australian Grand Prix, the trial day, due to be held at Winton, will be the first run for the 2015 championship specification machine in Australia.
The test is predominantly for teams and drivers already committed to the new category, which is set to embark upon its inaugural seven round season at Townsville on July 10-12.
It is understood teams will be given an allotted amount of laps with the car at the Victorian circuit. The mileage completed during the day will not be classed as part of the championship's test program.
Following the completion of the customer engine deal with Ford Europe last month, the championship will be closely aligned to the British FIA Formula 4 variant, MSA Formula, with both series' electing to run an identical chassis, Ford 1.6 litre EcoBoost engines and Hankook tyres.
Speedcafe.com has learned CAMS is edging closer to leasing its full 20 car quota ahead of next month's official launch likely to be held at Sandown.
Australian F3 squad Team BRM, AGI Sport and DREAM Motorsport are the only teams to publicly commit to the category so far.
"There are about half a dozen spots remaining," CAMS motorsport development manager, Cameron McConville told Speedcafe.com.
"We have now sent out the information to teams, we have announced engine, tyres and everything else so there are less excuses now to hold off."