Wall aiming to capitalise on golden opportunity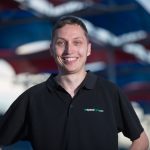 New Garry Rogers Motorsport recruit David Wall feels 2015 offers his best opportunity yet to make a mark in V8 Supercars.
The 32-year-old, who completed a move to join the factory Volvo Polestar Racing V8 Supercar outfit in November last year, is already setting himself targets for the new season even before he has turned a lap in the GRM Volvo S60.
Last season the S60 quickly proved to be among the fastest cars on the grid with Wall's new teammate Scott McLaughlin scoring four race wins during the 2014 campaign.
After finishing 21st in the standings for the last two years in the category, Wall is aiming to make the most of a golden opportunity behind the wheel of a car capable of winning races.
Wall spent two years at Brad Jones Racing before moving to Dick Johnson Racing for the 2014 campaign.
A fifth place finish at Tasmania last season represents his best race finish in the championship after 107 V8 Supercar race starts.
"This is the chance to make a mark in the championship absolutely," Wall told Speedcafe.com.
"To be part of a factory outfit is obviously the pinnacle of what we all look to achieve as drivers.
"The situations I have been in before have been good situations and I enjoyed my time but to be part of this project is the best opportunity that I've had to date.
"I'm sure the car has its own unique things to get used to and hopefully when I get used to those we will get the results that we are looking after.
The goals change all the time, I went into last year wanting to run in the top 10 consistently and we did that at times but not as consistent as we like.
"We had a fifth and we were not to far from a podium last year.
"I'd like to run in the top five and get some podiums on the way and then see how that goes. I'm sure our targets will change if we are able to meet them early."
This season is likely to be another a busy campaign outside of the cockpit for Wall with his GT operation Wall Racing set to field a Porsche 997 and an Audi R8 in the growing Australian GT Championship.