Vanthoor: Bathurst ideal for FIA GT3 World Cup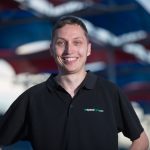 Blancpain Endurance Series champion Laurens Vanthoor says the Liqui Moly Bathurst 12 Hour has grown enough to host the proposed FIA GT3 World Cup.
The FIA first discussed plans to introduce an FIA GT3 World Cup race in 2013 with the world motorsport governing body now seeking candidates to organise and promote the series at December's World MotorSport Council meeting in Doha.
Blancpain boss Stephane Ratel confirmed earlier last year that he would be keen to promote a GT3 World Cup alongside his popular European series. Early indications suggest the race would likely take place between December and February.
While the new series and its format are far from confirmed, Vanthoor, regarded as one of the best GT3 drivers in the world, believes the Bathurst 12 Hour event and the challenging Mount Panorama circuit would be a perfect fit for the FIA GT3 World Cup.
The 23-year-old Belgian has been a long time admirer of the 6.2km circuit before making his debut at last year's Bathurst 12 Hour, where he helped Phoenix Racing to fifth overall.
Vanthoor is set to return to the event on February 7-8 as part of a two car Phoenix Racing Audi R8 assault on the race.
"For sure if you could put the Bathurst 12 Hour in as part of a championship, that would be really nice," Vanthoor told Speedcafe.com.
"I know SRO are planning to do some sort of World Finals race next year or the year after and it would be pretty cool for that to happen at Bathurst.
"I think the guys that are quick at this track would easily prove that they are the best in the world."
With 30 GT3 cars from across the world set to take part in this year's edition, Vanthoor feels the event could attract even more international teams and marques if the race reverted to a 24 hour format.
Mount Panorama hosted a 24 hour race in 2002 and 2003 with both events won by Garry Rogers Motorsport's Holden Monaros.
"If you make it a 24 hour I think the race would grow to become even bigger than it already is," added Vanthoor.
"I reckon more works teams would join in. It would make the race even more interesting for the teams and the manufacturers."
Despite the race's recent growth, Bathurst 12 Hour organisers have downplayed the prospect of the event joining an international series.
However, event director James O'Brien has not completely ruled out the possibility of a format change in the future.
"Right now it's not on the agenda. Who knows what could happen in the future, but it's not an objective or even a goal to move to 24 Hours," he told Speedcafe.com.