Heimgartner wary of V8 Supercars challenge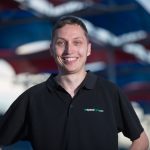 Andre Heimgartner is not underestimating the challenge to make an impact in V8 Supercars during his maiden season in the category next year.
The 19-year-old New Zealander will lead Super Black Racing's full-time voyage into Australia's premier race series, following an impressive wildcard appearance with the team at this year's Supercheap Auto Bathurst 1000.
Having plied his trade in the Dunlop Development Series and the Porsche Carrera Cup, the teenager is set for the biggest opportunity of his fledgling career behind the wheel of Tony Lentino's Super Black Racing Ford Falcon.
In recent years the championship has proved to be a tough proving ground for young drivers with few able to secure long term futures in the series.
While admitting there will be plenty of pressure to perform next year, the Kiwi, who finished an impressive 11th at Bathurst this year, is confident he can turn heads.
"Next year is going to be a challenging year I've got a learn a lot and its going to be tough," Heimgartner told Speedcafe.com.
"You can always build on things like DVS and the Bathurst run but at the end of the day its toughest touring car championship in the world.
"I'm not underestimating what it will take to do well in the championship.
"I'm expecting to be down the back at the start but I'm also expecting myself to learn and make my way forward.
"There is always bit of pressure as we have seen drivers like Scott Pye lose their seats and that plays in the back of your mind.
"But at the end of the day you don't want to put too much pressure on yourself and make silly mistakes.
"I've got to take it as a learning experience and by the end of next year I should be a much better driver than I am now.
"Bathurst showed I can go into next year knowing I have potential so its just a case of being able to reach it."
Super Black Racing is yet to confirm its co-driver for next year's enduros although Heimgartner is hoping  this year's Bathurst partner Ant Pedersen will be retained.
"I'm not sure Ant is looking the most likely at this stage but you never know," added Heimgartner.
"Ant did a really good job this year so I would be happy to have him again but it is up to Super Black."
Heimgartner will warm up for the season opener at the Clipsal 500 with a run in the NZ SuperTourers Waikato 250 at Hampton Downs on January 31 – February 1.