Gracie completes maiden V8 Supercar run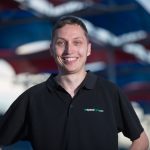 Renee Gracie stepped up preparations for her Dunlop Series debut next year by completing a maiden run in a V8 Supercar at Queensland Raceway.
The 19-year-old jumped behind the wheel of the Paul Morris Motorsport run Ford Falcon FG she will drive next season for a full day test at the Ipswich circuit.
This was Gracie's first drive in V8 Supercar having competed in the Porsche Carrera Cup for the last two years.
Despite the contrast between the Falcon and her previous Carrera Cup race car, Gracie completed the day without error clocking valuable mileage before her Dunlop Series race debut at the Clipsal 500 in February.
"I've never driven a V8 Supercar before and I felt very comfortable. It was a good day and we tried to get in as many laps as we could." Gracie told Speedcafe.com.
"I always have people telling me that I can't do it, so you always back yourself but you doubt yourself as well.
"However, I didn't struggle at all today and we were out there all day.
"It was not as bad as everyone was telling me and it feels like a weight has been lifted from my shoulders.
"I was just getting used to the movement of the car and how it rolls around corners. It felt pretty tame, it stepped out a bit but I felt in control."
"Its definitely going to be a learning year for myself next year but the goal I have is to be top rookie like Todd Halewood was this year."
Team manager Paul Morris was impressed with Gracie's performance considering her lack of experience in V8 machinery.
"Considering her experience she did extremely well her times were competitive and we are really pleased with how she went," said Morris.
"The first day in the car is like a first day at school. We worked through everyone and at the end of the day she popped in a really good lap time, it was very impressive."
Gracie is hoping to complete another test day before the season begins in Adelaide on February 26.