Van Gisbergen victorious as rain halts Sydney finale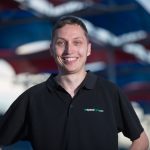 Shane van Gisbergen emerged victorious in the final race of the V8 Supercars season which was brought to a premature end by heavy rain at Sydney Olympic Park.
The Kiwi prevailed in difficult wet conditions to not only win the race but claim second overall in the championship standings, after capitalising on a mistake from leader Garth Tander.
Van Gisbergen jumped to the lead as early as lap 3 with the race starting on a wet but drying track.
However, the Tekno Autosports man briefly lost the lead to Tander through pit strategy as heavy rain forced the field to dump slick tyres and revert back to wets, as the race reached the halfway mark.
But there was yet a further twist when a mistake from Tander allowed the New Zealander to grab the lead just seconds before the Safety Car was deployed due to the worsening conditions.
The race was soon suspended after 44 laps before officials called a result after a brief stoppage, leaving van Gisbergen to scoop victory ahead of the Holden Racing Team duo Tander and James Courtney.
Full points were awarded as the race had completed more than half distance.
Newly crowned six-time V8 Supercars champion Jamie Whincup came through the eventful race to finish fourth ahead of Ford Performance Racing's Chaz Mostert and Supercheap Auto Racing's Tim Slade.
Meanwhile, Mark Winterbottom threw away the chance to secure the runner up spot in the championship having been involved in a drama filled race.
The Ford Performance Racing driver dropped to the rear of the field after being squeezed out on the run down to Turn 1 by Courtney and Rick Kelly.
He never recovered as another mistake saw him clip the wall at Turn 8 before the rain came down. Winterbottom eventually finished in 19th spot and third overall in the championship.
Rick Kelly gave Nissan a strong result finishing in seventh ahead of Volvo's Scott McLaughlin, who also secured fifth in the standings.
Brad Jones Racing's Jason Bright was ninth while Erebus Motorsport's Will Davison rounded out the top 10.
Marcos Ambrose managed to bring his Dick Johnson Racing Falcon home in 16th spot ahead of Red Bull Racing's Craig Lowndes, who struggled for pace throughout the race.
Despite a retirement after just six laps, Nissan's Michael Caruso held onto his 10th position in the championship.
Result: V8 Supercars Race 38, Sydney
| | | | | | |
| --- | --- | --- | --- | --- | --- |
| 1 | Team Tekno VIP Petfoods | Shane Van Gisbergen | Holden Commodore VF | 44 | 01:14:50.0418 |
| 2 | Holden Racing Team | Garth Tander | Holden Commodore VF | 44 | 01:14:51.8575 |
| 3 | Holden Racing Team | James Courtney | Holden Commodore VF | 44 | 01:14:55.3303 |
| 4 | Red Bull Racing Australia | Jamie Whincup | Holden Commodore VF | 44 | 01:14:56.2879 |
| 5 | Ford Pepsi Max Crew | Chaz Mostert | Ford Falcon FG | 44 | 01:14:57.6404 |
| 6 | Supercheap Auto Racing | Tim Slade | Holden Commodore VF | 44 | 01:14:59.3153 |
| 7 | Jack Daniel's Racing | Rick Kelly | Nissan Altima | 44 | 01:15:00.6560 |
| 8 | Valvoline Racing GRM | Scott McLaughlin | Volvo S60 | 44 | 01:15:02.1322 |
| 9 | Team BOC | Jason Bright | Holden Commodore VF | 44 | 01:15:02.8445 |
| 10 | Erebus Motorsport V8 | Will Davison | Mercedes E63 AMG | 44 | 01:15:03.7420 |
| 11 | Walkinshaw Racing | Nick Percat | Holden Commodore VF | 44 | 01:15:05.7223 |
| 12 | Lockwood Racing | Fabian Coulthard | Holden Commodore VF | 44 | 01:15:06.5103 |
| 13 | The Bottle-O Racing Team | David Reynolds | Ford Falcon FG | 44 | 01:15:07.1671 |
| 14 | Jack Daniel's Racing | Todd Kelly | Nissan Altima | 44 | 01:15:08.9473 |
| 15 | Norton Hornets | James Moffat | Nissan Altima | 44 | 01:15:09.8398 |
| 16 | XBOX Racing DJR | Marcos Ambrose | Ford Falcon FG | 44 | 01:15:10.8584 |
| 17 | Red Bull Racing Australia | Craig Lowndes | Holden Commodore VF | 44 | 01:15:13.4070 |
| 18 | Erebus Motorsport V8 | Lee Holdsworth | Mercedes E63 AMG | 44 | 01:15:14.1386 |
| 19 | Ford Pepsi Max Crew | Mark Winterbottom | Ford Falcon FG | 44 | 01:15:14.6981 |
| 20 | Repair Management Aust Racing | Russell Ingall | Holden Commodore VF | 44 | 01:15:16.7057 |
| 21 | Wilson Security Racing | Scott Pye | Ford Falcon FG | 44 | 01:15:17.7537 |
| 22 | Wilson Security Racing | David Wall | Ford Falcon FG | 43 | 01:14:50.9541 |
| 23 | Team JELD-WEN | Jack Perkins | Ford Falcon FG | 43 | 01:14:52.8220 |
| 24 | Team Advam/GB | Dale Wood | Holden Commodore VF | 43 | 01:14:54.2687 |
| DNF | Valvoline Racing GRM | Robert Dahlgren | Volvo S60 | 28 | 01:15:20.4913 |
| DNF | Norton Hornets | Michael Caruso | Nissan Altima |  6 |    10:48.4547 |
V8 Supercars Championship Standings
| | | |
| --- | --- | --- |
| 1 | Jamie Whincup | 3364 |
| 2 | Shane Van Gisbergen | 2778 |
| 3 | Mark Winterbottom | 2763 |
| 4 | Craig Lowndes | 2656 |
| 5 | Scott McLaughlin | 2509 |
| 6 | James Courtney | 2481 |
| 7 | Chaz Mostert | 2444 |
| 8 | Fabian Coulthard | 2430 |
| 9 | Garth Tander | 2280 |
| 10 | Michael Caruso | 1939 |
| 11 | Jason Bright | 1920 |
| 12 | Nick Percat | 1915 |
| 13 | Rick Kelly | 1912 |
| 14 | Will Davison | 1904 |
| 15 | David Reynolds | 1786 |
| 16 | James Moffat | 1704 |
| 17 | Tim Slade | 1646 |
| 18 | Russell Ingall | 1510 |
| 19 | Scott Pye | 1407 |
| 20 | Lee Holdsworth | 1386 |
| 21 | David Wall | 1339 |
| 22 | Todd Kelly | 1317 |
| 23 | Jack Perkins | 1271 |
| 24 | Dale Wood | 1160 |
| 25 | Robert Dahlgren | 909 |
| 26 | Paul Dumbrell | 810 |
| 27 | Paul Morris | 645 |
| 28 | Jonathon Webb | 579 |
| 29 | Steve Owen | 543 |
| 30 | Alexandre Premat | 522 |
| 31 | Steven Richards | 519 |
| 32 | Luke Youlden | 480 |
| 33 | Oliver Gavin | 462 |
| 34 | Dean Fiore | 462 |
| 35 | Greg Murphy | 447 |
| 36 | David Russell | 441 |
| 37 | Alex Davison | 408 |
| 38 | Warren Luff | 402 |
| 39 | Tony D'Alberto | 387 |
| 40 | Ashley Walsh | 381 |
| 41 | Taz Douglas | 339 |
| 42 | Alex Buncombe | 327 |
| 43 | Cameron Waters | 318 |
| 44 | Tim Blanchard | 300 |
| 45 | Dean Canto | 270 |
| 46 | Andrew Jones | 231 |
| 47 | Greg Ritter | 228 |
| 48 | Steven Johnson | 225 |
| 49 | Chris Pither | 156 |
| 50 | Andre Heimgartner | 144 |
| 51 | Ant Pedersen | 144 |
| 52 | Craig Baird |  69 |