Fan pleas ignored in Ford decision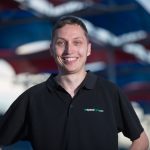 Ford's decision to pull its manufacturer support from V8 Supercars comes in defiance of impassioned pleas from the brand's most loyal supporters.
In the wake of reports related to Ford's departure from the sport emerging at this year's Bathurst 1000, Speedcafe.com launched a petition for people to show their support for the blue oval maker to remain committed to motorsport.
More than 10,000 signed the petition to persuade Ford to stay involved in Australian motorsport while a further 5,123 took part in a survey, which canvassed key marketing and purchasing questions related to the manufacturer.
Even the most ardent of fans of rival manufacturers including Holden took part in the petition and survey showing their support for Ford to remain involved in Australian motorsport.
Amid a sea of social media activity in the wake of the Ford announcement, staunch Ford supporter and first signer of the petition,
Tony Hawton, who has attended 38 consecutive Bathurst 1000 races, said he expects to be one of many reconsidering his following of the sport.
"To go up there (Bathurst) and know that Ford is not backing motor racing might just end my run at attending the Great Race," he said.
"I really don't know at this stage, but I feel I owe Ford nothing.
"To think that I could be going to Bathurst and not watch a Ford supported team is something I can't believe.
"The thing that gets me is that they only have two race teams right now.
"That's six cars, not 20 and my message is 'come on Ford wake up to yourselves – this is ridiculous'. I own four Fords in my house right now, these could be the last ones."
The survey produced poignant results indicating the departure of Ford from motor racing could have a detrimental effect on its business.
A massive 96 percent agreed that if Ford pulled support of Australian motor racing, it would hurt the blue oval brand.
Eighty-five percent declared that manufacturer input in motorsport directly influences their choice when purchasing a vehicle.
A further 55 percent said they would even change their decision to buy or potentially buy a Ford if the company withdrew from motorsport.
Additionally 86 percent of survey participants felt the decision to pull out of motorsport would give the impression the manufacturer is turning its back on the Australian market altogether.