CAMS confident of full Formula 4 grid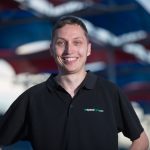 The Confederation of Australian Motor Sport is confident it has half of the 20 car grid confirmed for the inaugural season of the Australian Formula 4 Championship.
Set to launch in June/July next year, the junior single-seater category has seen CAMS purchase 20 Mygale Formula 4 chassis which it is leasing to competitors.
Publicly only two teams have confirmed intentions to compete in the championship with Sydney outfit AGI Sport and multiple title winning Australian F3 squad Team BRM announcing plans last month.
However, CAMS' newly appointed motorsport development general manager Cameron McConville says that the championship has received registrations for at least half of its quota of cars.
The deadline to register for the championship closes on November 28, but will be extended if all cars are not filled by that date.
McConville remains confident the category will successfully lease all 20 cars ahead of next year's opening round.
"At the moment we have about half the field officially registered for the championship so there are still slots available," McConville told Speedcafe.com.
"I'm not able to confirm the teams at this stage because it is up to them to announce themselves like AGI Sport and Team BRM have to get the most out of it.
"What we are thinking is we will ask the teams to release the names when the deadline closes on November 28.
"With anything new like this people hold off until certain people commit. At the end of the day if we weren't getting genuine interest I would be concerned but there has been a lot of interest.
"I'm still confident we will get all of the cars allocated once a few of the bigger ones are announced in the coming weeks."
The championship released its sporting regulations last week but is yet to announce its engine and tyre suppliers.
Although the identity of the championship's control 2.0 litre engine is expected to be revealed imminently with McConville set to meet with the engine supplier as part of a trip to Europe next week.
The visit will also factor in a trip to the Mygale factory where he will run through some of the finer details of the F4 car.
FIA backed F4 championships in Britain and Spain currently use 1.6 litre Ford Ecoboost engines, while Abarth 1.6 litre and Fiat 1.8 litre units feature in South America and Italy respectively. Meanwhile in Japan a 2.0 litre Toyota powerplant is the preferred engine.
"I'm very confident we will have locked in the engine and tyre supplier before the trip," added McConville.
"It probably feels like competitors are signing up to something they don't know the full information on but if you have done your research on F4 you don't have to be a rocket scientist to work out it will be one of a couple of options.
"Its not just a quick decision there are quite a few puzzles to it like do we have the correct support for the product in Australia, the right fit for the car?"
The calendar is also yet to be confirmed but McConville has reiterated that the seven round series will be contested at V8 Supercar meetings.
It is understood discussions between CAMS and V8 Supercars are in the final stages with an announcement expected shortly.
"We are still in our very final discussions with V8 Supercars but what I can say is that 100 percent of the races will be with V8 Supercars and that won't change," said McConville.