Emotional farewell to F1 coverage for Rust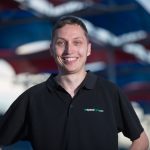 Distinguished motorsport broadcaster Greg Rust made a teary farewell from his final Formula 1 broadcast at Network Ten.
The 44-year-old from Sydney has risen to become one the country's leading motorsport commentators, anchoring Ten's F1 and MotoGP coverage since 2007, with the Abu Dhabi Grand Prix his final in the chair.
Rust made an emotional address to viewers following the race last night reflecting on his tenure covering F1 and MotoGP at Ten.
Matthew White is set to replace Rust in the anchor role for MotoGP and F1 next season.
While currently unable to confirm his future, Speedcafe.com understands that Rust will take up a pit lane reporter role for V8TV next year alongside selected projects with Ten.
"Deep down I'm sad but I'm hugely proud," Rust told Speedcafe.com
"I've had some great opportunities at Ten to work on a variety of sports. Motor racing is my passion and I've pretty much had a chance it dabble in all of it.
"My future will become clearer in time but it has been an unbelievable ride.
"I will definitely be in broadcasting and I definitely still be involved in motor racing as that is my love.
"Ten have enabled me to do selective projects with them next year. In television that is pretty rare as when you leave normally the door is slammed shut firmly but that is not the case at channel Ten."
Having worked his way up through the ranks to land the anchor role for Ten's MotoGP and F1 coverage in 2007 as a replacement for Bill Woods, Rust has become a friendly face and a respected broadcaster in motor racing.
While being based predominantly in a Sydney studio, he is immensely proud of the job he and the Ten crew have done to bring the world's leading single seater and bike championships to Australian audiences.
During his tenure he has worked alongside 1980 F1 world champion Alan Jones, motorcycle world champion Barry Sheene, Australian motorcycle star Daryl Beattie and British F1 commentator James Allen.
"Its hard when you are in Australia but with what we have got we do the best we can and to be apart of that has been huge," added Rust.
"I've been very lucky as I have worked with people like Tom Clarkson, James Allen and a few others and to work beside them and learn from them has been a huge thing for me.
"Barry Sheene was a great mentor for me in some ways. I knew he was a mega star in England but he took me under his arm and he became a friend, colleague and life mentor.
"Its been the same with drivers like Mark Webber and Daniel Ricciardo to be able to build a rapport with them has been unbelievable. The relationships I've built is something I'm very proud of.
"The highlights have to be going to the British Grand Prix but also going to the 2010 championship deciding round at Abu Dhabi.
"Webber was in contention for the title and I was the last person to interview him before he jumped in the car. It went Seb's way that year but it was very special."
Rust's role on the V8 Supercars telecasts is expected to see him work alongside Riana Crehan in the pitlane, supplementing the commentary team of Neil Crompton and Greg Murphy.
The V8 TV package will be utilised by both Fox Sports and Ten, with the latter's live and highlights packages to be hosted by White.
Mark Skaife is meanwhile expected to feature as an expert in Fox's coverage.
Rust previously worked as both a pit reporter and lead commentator during V8 Supercars' spell at Ten between 1997 and 2006.