Luff, Winslow to spearhead Bathurst Audi attack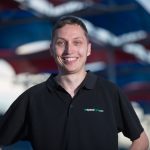 Experienced Australian driver Warren Luff and international sportscar racer James Winslow will lead Jamec Pem Racing's bid for Bathurst 12 Hour glory.
The duo are among the first drivers to confirm plans to race at the Mount Panorama endurance classic held from February 6-8, as they join Australian GT amateur Steve McLaughlan, in a Class A Melbourne Performance Centre run 2014 specification Audi R8.
Having claimed multiple Formula 3 titles, British racer Winslow has also been successful in sportscars making his debut at the prestigious Le Mans 24 Hours this year with LMP2 squad Greaves Motorsport. This came after finishing runner-up in the Asian Le Mans Series driving for KCMG last season.
Winslow last competed in the Bathurst 12 Hour in 2013 when he drove the Peter Conroy Motorsport Audi R8 alongside former World Touring Car champion Rob Huff and Australian Peter Conroy.
Meanwhile, Luff has plenty of experience at Mount Panorama having competed at the venue in V8 Supercars, Porsche Carrera Cup and the Bathurst 12 Hour. The Holden Racing Team co-driver and 2013 Pirtek Enduro Cup champion has raced an Audi R8 in each of the last four Bathurst 12 Hour events, recording a best finish of second in 2011.
Entrant McLaughlan, who will embark upon his Bathurst 12 hour debut next year, says the experience of Luff and Winslow was pivotal in the decision, having been offered the chance to field an Audi works driver for the event.
"I could have had an Audi works driver if I wanted but I felt both James (Winslow) and Warren (Luff) have a lot of experience particularly at Bathurst and both of them have driven there Audi before," McLaughlan told Speedcafe.com.
"It was important to get two drivers with experience who are evenly matched and they are capable of running with all of the front runners."
Although, this will be McLaughlan's first Bathurst 12 hour, the Victorian amateur racer is confident the squad can compete with the front runners.
"It will be my first 12 Hour but I have been to Bathurst before," added McLaughlan.
"There is always a degree of luck you need when you go to Bathurst but we should be able to run in the top five.
"We expect the car to be as quick as anything but I think the culmination of local talent and experience will serve us well.
"Last year it was the turning point for the event and you have only got to look at the entry list this year to see its unbelievable."
The entry list for this year's Bathurst 12 Hour swelled to 52 cars last week with the confirmation of top Asian GT outfit Craft Bamboo Racing, who will field two Aston Martin GT3 machines.
A total of nine manufacturers will compete in the race with Aston Martin joining, Ferrari, Nissan, Mercedes Benz, Audi, Porsche, McLaren, Bentley and Lamborghini.