Richards makes history with Carrera Cup title win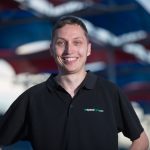 Steven Richards secured his first major championship for 20 years by claiming the Porsche Carrera Cup Australia title in the final race of the season which was won by Nick Foster.
Foster dominated the encounter on the Gold Coast streets from start to finish but the real story was Richards who came home in fifth position to claim his first championship since winning the 1994 Australian Formula Ford title.
Richards' title win has also created history following in the footsteps of his father Jim, who won the 2003 Carrera Cup title. As a result, they are the first father and son pair to win a Carrera Cup crown.
The final race of the season was controlled throughout by Foster as he led every single moment of the 20 lap encounter on the Surfers Paradise street circuit.
Shae Davies jumped to second having started from third on the grid while Richards slotted into third just ahead of David Russell.
However, Richards soon slipped to fourth after being passed by Russell.
At the halfway mark, Foster had built up a healthy 1.3s lead as Richards continued to slip way from the lead trio.
There proved to be no stopping Foster at the front as he took his second Carrera Cup victory of the day which gave him a maiden round win.
Davies finished in second ahead of Russell who claimed the final podium spot.
Outgoing Carrera Cup champion Craig Baird ended his campaign in fourth and third overall in the title race, while Richards cruised to fifth, which was enough to claim the championship from Warren Luff.

VIDEO Porsche Carrera Cup Race 3 Review
Porsche Carrera Cup Australia Race 3 Result, Gold Coast 
| | | | | | |
| --- | --- | --- | --- | --- | --- |
| Position | Number | Sponsor | Driver | Laps | Time/Gap |
| 1 | 777 | Bob Jane T-Marts | Nick Foster (VIC) | 20 | 24:33.5964 |
| 2 | 88 | Davbridge Constructions | Shae Davies (QLD) | 20 | 24:34.2748 |
| 3 | 23 | JBS Australia | David Russell (QLD) | 20 | 24:34.8231 |
| 4 | 1 | Bonaire / Wilson Security | Craig Baird (VIC) | 20 | 24:49.7165 |
| 5 | 12 | Laser Plumbing & Electrical | Steven Richards (VIC) | 20 | 24:49.9802 |
| 6 | 7 | No Second Chance/Phase 8 | Warren Luff (QLD) | 20 | 24:50.3664 |
| 7 | 26 | Copyworld | Michael Almond (SA) | 20 | 25:06.7053 |
| 8 | 45 | VIP Petfoods | Duvashen Padayachee NSW | 20 | 25:06.9276 |
| 9 | 77 | Bob Jane T-Marts | Nick McBride (VIC) | 20 | 25:09.4955 |
| 10 | 55 | Fujitsu Racing | Renee Gracie (QLD) | 20 | 25:17.4822 |
| 11 | 56 | McGrath Estate Agents | Shane Smollen (NSW) | 20 | 25:21.7676 |
| 12 | 24 | Alternative Freight Services / | Tony Bates (VIC) | 20 | 25:27.1516 |
| 13 | 13 | Porsche Centre Brighton | James Bergmuller (VIC) | 20 | 25:30.8487 |
| 14 | 5 | Objective Racing | Tony Walls (QLD) | 20 | 25:35.5759 |
| 15 | 22 | Phenix Motorsport | Brenton Ramsay (SA) | 20 | 25:38.0402 |
| 16 | 4 | Grove Group | Stephen Grove (VIC) | 20 | 25:48.1265 |
| 17 | 9 | Hallmarc | Marc Cini (VIC) | 19 | 24:44.7305 |
| 18 | 11 | Royal Purple Oil / Garth Walde | Ash Samadi (NSW) | 19 | 24:52.2728 |
| 19 | 222 | Scott Taylor Motorsport | Scott Taylor (QLD) | 19 | 25:00.5573 |
| 20 | 39 | Veritas | Adrian Mastronardo (NSW) | 19 | 25:18.5384 |
| 21 | 10 | Finance EZI/Foxtel | Maurice Pickering (QLD) | 18 | 25:17.3211 |