Miller: I'm ready to join 2015 MotoGP grid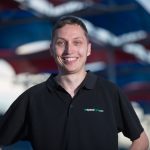 Rising Australian motorcycle star Jack Miller believes he is ready to make the unusual jump from Moto3 to MotoGP's premier class with LCR Honda next season.
The Queenslander put pen to paper on a three-year deal to move from MotoGP's entry level to the top category earlier this month.
LCR will run a production-specification RCV1000R for Miller next season alongside the RC213V of fellow new recruit Cal Crutchlow.
Having only competed in road racing since 2009, the leap up to motorcycle racing's elite represents a huge challenge for the relatively unproven Townsville teenager.
Despite the lack of experience on top flight MotoGP machinery, Miller feels he is ready to grace the top tier of two wheel racing.
"I'm over the moon to have this chance, but of course you know there will be a lot of questions," said Miller in the press conference ahead of this weekend's Grand Prix of Aragon.
"When Marc (Marquez) went up to Moto2 he was lighter and smaller than me, so physically I think I can ride now in MotoGP.
"I've only been on a road bike since 2009 so it's a big step. It's a long-term project and with the time and attitude we can do it.
"It's just a bike with two tyres and an engine."
Miller's announcement has turned heads in the paddock including that of reigning world champion Marc Marquez.
The factory Honda man, who joined the MotoGP premier class in 2013 after spells in Moto3 and Moto2, believes Miller will face tough battle to establish himself in the category at the start of 2015.
"It will be interesting to see Jack at Valencia for the first test, the step is very big," said Marquez.
"When I was in 125s I didn't feel ready to go to MotoGP directly, I stayed in Moto2 because it was necessary for me.
"For him maybe it's different. It will be hard at the start for sure but we just have to wait and see."
Meanwhile, Miller continues to hold a slender nine point lead at the top of the Moto3 championship standings and is refusing to allow his impending move to LCR Honda to distract his campaign.
"For sure, the championship is tightening up," added Miller.
"Now we have to focus with five races to go, we can't be too careful as the Estrella (Estrella Galicia 0,0) bikes are going well.
"We had a test here previously at Aragon.
"I had a decent test and I think we can do a decent job here."