Van Gisbergen does the double at SMP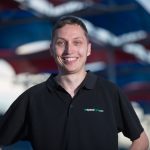 Shane van Gisbergen once again showed his class in wet conditions as he held off Chaz Mostert to win for a second time in Race 27 at the Sydney Motorsport Park 400.
The Tekno Autosports driver witnessed his lead evaporate twice due to Safety Car periods, but he went on to remind the field of his talent in the wet, to hold off Ford Performance Racing's Mostert for the win.
Whincup extended his championship lead to 69 points with a third place finish, while rivals Craig Lowndes and Mark Winterbottom finished in 11th and 12th respectively.
The conditions worsened in the break between races with further rain creating areas of standing water on the race track.
Race 26 winner van Gisbergen once again made an impressive start as he led the field after edging Whincup, Coulthard and pole sitter Scott McLaughlin on the run down to Turn 1.
There was drama just a couple of corners later when McLaughlin slowed dropping down the order after losing his right rear wheel. The Volvo driver, who only just made the race start following an engine change, managed to bring the car back to the pits.
Van Gisbergen was unable to gallop away at the front due to the Safety Car being deployed on lap three after Volvo driver Robert Dahlgren lost control and slammed into the barriers at Turn 5.
However, the Kiwi made a slick restart and soon moved into a healthy lead while Brad Jones Racing driver Fabian Coulthard muscled his way through on Whincup for second.
Norton Hornets racer James Moffat capitalised upon the move to grab third but a mistake shortly after saw him slide down the field.
This allowed Ford Performance Racing's Chaz Mostert to move into fourth as the Perth winner, who started from 11th on the grid, latched onto the battle for the podium places ahead.
Behind Holden Racing Team's James Courtney and Garth Tander enjoyed a battle with Jason Bright for fifth.
Further back Winterbottom and Lowndes were fighting over 15th and 16th spots respectively.
Back at the front van Gisbergen once again proved to be in a league of his own, while Whincup shot past Coulthard for second.
Coulthard was unable to recover and he began to move backwards with Mostert and Bright jumping ahead of the Kiwi.
Mostert continued to charge in the FPR Falcon as he made the most of a rare mistake from Whincup that saw the reigning champion run wide and lose six seconds.
Whincup was not the only driver to make an error as race leader van Gisbergen briefly ran wide.
His six second lead was completely wiped out shortly after when Michael Caruso tagged Dick Johnson Racing's Scott Pye into a spin at Turn 6, which saw the introduction of the Safety Car for a second time.
Caruso was subsequently handed a drive through penalty.
Whincup dived down the inside of of van Gisbergen at the restart but the Kiwi fended off the Red Bull racer to hang on to the lead. Mostert took advantage of the squabble to move into second before challenging the leader.
There was yet more carnage behind as Todd Kelly and Garth Tander made contact and went off the road at Turn 2, while contact between Ingall and Percat saw the latter spin out.
In the end, Van Gisbergen held firm to take a second win at Sydney Motorsport Park from Mostert and Whincup.
Bright came home in fourth ahead of Erebus Motorsport's Will Davison, who started a lowly 18th on the grid.
Moffat recovered from his earlier mistake to finish sixth ahead of Coulthard, Courtney, Nissan's Rick Kelly and Russell Ingall, who rounded out the top 10
Supercheap Auto Racing driver Tim Slade did not make the start due to damage suffered in Race 26.
V8 Supercars Race 27 Results
| | | | | | |
| --- | --- | --- | --- | --- | --- |
| Position | Team | Driver | Car | Laps | Time |
| 1 | Team Tekno VIP Petfoods | Shane Van Gisbergen | Holden Commodore VF | 24 | 47:02.9787 |
| 2 | Ford Pepsi Max Crew | Chaz Mostert | Ford Falcon FG | 24 | 47:03.6954 |
| 3 | Red Bull Racing Australia | Jamie Whincup | Holden Commodore VF | 24 | 47:06.3523 |
| 4 | Team BOC | Jason Bright | Holden Commodore VF | 24 | 47:08.4429 |
| 5 | Erebus Motorsport V8 | Will Davison | Mercedes E63 AMG | 24 | 47:11.8319 |
| 6 | Norton Hornets | James Moffat | Nissan Altima | 24 | 47:14.1839 |
| 7 | Lockwood Racing | Fabian Coulthard | Holden Commodore VF | 24 | 47:17.3501 |
| 8 | Holden Racing Team | James Courtney | Holden Commodore VF | 24 | 47:18.0881 |
| 9 | Jack Daniel's Racing | Rick Kelly | Nissan Altima | 24 | 47:19.0389 |
| 10 | Repair Management Aust Racing | Russell Ingall | Holden Commodore VF | 24 | 47:19.8824 |
| 11 | Red Bull Racing Australia | Craig Lowndes | Holden Commodore VF | 24 | 47:20.3692 |
| 12 | Ford Pepsi Max Crew | Mark Winterbottom | Ford Falcon FG | 24 | 47:22.1579 |
| 13 | The Bottle-O Racing Team | David Reynolds | Ford Falcon FG | 24 | 47:23.4079 |
| 14 | Wilson Security Racing | David Wall | Ford Falcon FG | 24 | 47:27.6961 |
| 15 | Erebus Motorsport V8 | Lee Holdsworth | Mercedes E63 AMG | 24 | 47:29.8159 |
| 16 | Team JELD-WEN | Jack Perkins | Ford Falcon FG | 24 | 47:32.4862 |
| 17 | Jack Daniel's Racing | Todd Kelly | Nissan Altima | 24 | 47:32.6743 |
| 18 | Team Advam/GB | Dale Wood | Holden Commodore VF | 24 | 47:36.6363 |
| 19 | Walkinshaw Racing | Nick Percat | Holden Commodore VF | 24 | 47:37.3326 |
| 20 | Norton Hornets | Michael Caruso | Nissan Altima | 23 | 47:38.9254 |
| 21 | Wilson Security Racing | Scott Pye | Ford Falcon FG | 22 | 47:42.9161 |
| DNF | Holden Racing Team | Garth Tander | Holden Commodore VF | 21 | 41:51.4099 |
| DNF | Valvoline Racing GRM | Scott McLaughlin | Volvo S60 |  8 | 46:39.9336 |
| DNF | Valvoline Racing GRM | Robert Dahlgren | Volvo S60 |  1 |  2:09.3848 |
| | | | | | |