McCorkindale scores dominant GT3 Cup treble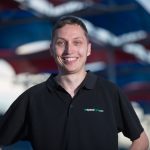 Jon McCorkindale completed a meeting clean sweep in the Porsche GT3 Cup Challenge Australia presented by Pirelli with a double victory at Queensland Raceway.
The 23-year-old starred in Sunday's two encounters at the Ipswich circuit to add to his triumph in Saturday's opener.
Championship leader Fraser Ross was unable to match the pace of the young New South Welshman, but crucially kept his title bid ticking over nicely with another two second place finishes.
"I couldn't be happier. We know we are way out of the championship race, Fraser has had a great run this season, so we've taken a relaxed approach for the rest of the year and evolved our team and myself as a driver," said McCorkindale.
McCorkindale won the drag race at the start of first of Sunday's 12 lap encounters as Ross slotted into second.
Peter Fitzgerald held third briefly before he out-braked himself at Turn 3 on the opening lap which dropped him to sixth.
Meanwhile at the front, McCorkindale began to stretch his advantage as he quickly established a 1.5 second lead from Ross and John Goodacre.
After his opening lap mistake, Fitzgerald managed to move into fifth spot with a move on John Karytinos.
The race was neutralised under the Safety Car on lap eight when Sam Shahin lost control on the exit of Turn 6 before slamming hard into the pit wall.
Shahin escaped the car unscathed but with wreckage littered across the circuit officials declared the race result early with McCorkindale taking the win behind the Safety Car from Ross and Goodacre.
McCorkingdale was forced to work harder for his third win of the weekend as Goodacre stormed into the lead at the start having started from third on the grid.
Goodacre came under severe pressure from behind but by the third lap his race unravelled. A puncture for the race leader saw him spin off at Turn 1 allowing McCorkindale to move into the lead.
The incident brought out the Safety Car but once racing resumed McCorkindale wasted little time in asserting his authority on the race.
A spin for Scott Taylor on lap six saw the Safety Car deployed once again, but it failed to disrupt McCorkindale from claiming a breakthrough treble from Ross and Karytinos.
Ross has now built up an 86 point lead heading into the final round at Phillip Island on September 19-21 where there are 91 points up for grabs.
Goodacre remains second in the standings with McCorkindale in third, while Matt Campbell has claimed the Class B crown.