Ross claims Jim Richards Endurance Trophy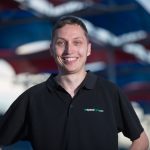 Fraser Ross lifted the Jim Richards Endurance Trophy as he followed Jon McCorkindale home in the opening race of the Porsche GT3 Cup Challenge Australia presented by Pirelli at Queensland Raceway.
Ross initially led the 40 lap race into the night but was unable to match the pace of McCorkindale as he went on to dominate the encounter.
Once he surged ahead, the 23-year-old from New South Wales took the chequered flag by a comfortable 13 seconds from Ross and John Goodacre.
While Ross was left to settle to second, the points were enough to wrap up the Jim Richards Endurance Trophy, a competition held over three rounds at Winton, Mallala and Queensland Raceway.
"I've wanted the Jim Richards Endurance Trophy since the start of the year," said Ross.
"Jim Richards has been a family friend for a long time and a mentor of mine so it was really important to me to win this award."
Ross managed to convert his pole position into the lead at the start of the race as he led McCorkingdale and Peter Fitzgerald.
Ross tried to pull away from his pursuers but was unable to open a gap and by lap four he lost the lead. McCorkindale slipped down the inside of the championship leader at Turn 4 which pushed him into the clutches of Fitzgerald behind.
Once in front, McCorkindale immediately opened up a gap as Ross tried to respond.
However, there was no stopping McCorkindale as he surged into a commanding six second lead as the race reached the halfway mark.
Behind, there was a change for third as Fitzgerald made a mistake and drooped behind Goodacre and John Karytinos.
In the end, McCorkindale pushed on to take the chequered flag by a full 13 seconds from Ross and Goodacre.
Matt Campbell enjoyed a strong run throughout the race to finish as the top Class B runner in seventh spot.