De Pasquale eyeing Renault Eurocup graduation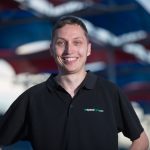 Open-wheel talent Anton De Pasquale is working on a move to Formula Renault 2.0 Eurocup next season after holding talks with several top teams.
The 18-year-old has made a successful transition to Europe this year with the Victorian opening up a 50 point lead at the top of the Formula Renault 1.6 NEC standings.
Having sewn up the 2013 Australian Formula Ford Championship, De Pasquale has gone on to record five victories this season, which has caught the attentions of several well established Formula Renault 2.0 Eurocup outfits.
The championship features some of Europe's top junior single seater outfits including Koiranen GP, Prema Powerteam, ART and Fortec Motorsports.
De Pasquale's move to Europe has been engineered by manager and former Australian touring car star Mark Larkham, who is already working on placing the young Aussie in Formula Renault 2.0 next year.
After an impressive debut campaign in Europe, De Pasquale has received several approaches which are currently being evaluated while budgets are accrued.
It is understood a season in the category will cost in the region of €400,000 ($575,000).
"I'm in discussion with teams right now and there has been a lot of interest in him which has been great," Larkham, who will formally launch his own Australian Motor Sport Academy later this year, told Speedcafe.com.
"They are talking to me and there has been approaches from the top teams.
"We don't yet have the backing place so I don't want to waste anyone's time yet until we have a good portion of that.
"I don't see any need to rush the deal as there are plenty of people watching him.
"I intend to go over to Europe in the next month or two to start to put that into place.
"We are talking to the top teams which is great and a lot of the discussion will not just be about the best car, engine and engineer, it will be about some of the support mechanisms around an Australian driver in Europe.
"Formula Renault 2.0 will be the absolute litmus test to see if Anton has the ability to go on with it. The category is very tough over there but I think he will be well prepared for it.
"I'm very pleased and very proud in the way Anton has adapted to life in Europe. This is one of his really strong points, his ability to adapt."
De Pasquale's Formula Renault 1.6 campaign continues with a trip to Belgium's Zolder circuit on August 28-30.