Lee Holdsworth closing on 2015 decision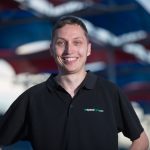 Lee Holdsworth expects to have his V8 Supercars future locked in before October's Supercheap Auto Bathurst 1000 as he evaluates his options for 2015.
The V8 race winner is out of contract with Erebus Motorsport at the end of this season having spent the last three years driving for the Queensland outfit.
After a difficult campaign with the new Erebus AMG E63 last year that left him 20th in the final standings, the 31-year-old currently sits 17th with one victory to his name.
While he is yet to finalise his plans for 2015, Holdsworth stresses that remaining with Erebus is his preference.
"We have been talking for a while now and this is my preference, to stay at Erebus," Holdsworth told Speedcafe.com.
"I really love the people I work with here and they are a good solid team. The team has come on in leaps and bounds since last year.
"We will see how it goes over the next few rounds and hopefully I will put pen to paper soon."
The 2014/15 off-season is expected to be a relatively quiet one in V8 Supercars, with the majority of the key seats set to be retained by their current drivers.
Holdsworth says he is prepared to wait before finalising a new deal.
"Obviously I need to work out what I want to do next year and the team need to work out what they're doing," he said when asked of a target for solidifying his position.
"Bathurst is probably the time frame that everyone aims at and it is always good to have all that sorted before going into the big race."
Erebus CEO Ryan Maddison is meanwhile optimistic of retaining the three-time V8 Supercars race winner as the team aims to make minimal changes ahead of 2015.
"We've had a number of discussions with Lee," Maddison told Speedcafe.com.
"It's fair to say that we're comfortable where the discussions are at.
"With the category being so tight, you need to have continuity with the drivers," he added.
"Obviously that doesn't always work out, but that's our intention.
"Clearly with a race win under his belt and consistent performances from the two of them, the idea is that we minimise the changes and the impact on the team."
The team's future has been questioned this season having struggled to attract commercial sponsors.
Erebus is also yet to lock away a new deal with AMG Customer Sports and Mercedes-Benz Australia.
As previously reported, Maddison and team owner Betty Klimenko met with AMG bosses at last month's Spa 24 Hours to discuss a new contract.
While the team is confident a new deal will be forthcoming, Holdsworth stopped short of saying that the announcement would be a factor in re-signing.
"It would be brilliant," said Holdsworth.
"We need a little bit of support and every bit of support helps so we will keep our fingers crossed."