Pye: Relaxed mindset key to career best result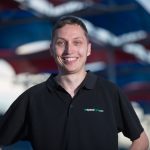 Scott Pye believes a more relaxed approach without the pressures of driving for his future has enabled him to achieve his career best V8 Supercars result at the Coates Hire Ipswich 400.
The Dick Johnson Racing driver produced one of the best performances of his career to convert a 12th starting berth into a fourth place finish in Sunday's 200km encounter at Queensland Raceway.
Since moving to DJR after a rookie season at Lucas Dumbrell Motorsport last year, the South Australian has been steadily rising the ranks with his fourth place finish eclipsing his previous career best of sixth at last year's Bathurst 1000.
Pye is adamant his new surroundings coupled with a much calmer mindset heading into races this season, safe in the knowledge of his future in the sport, has been the key to his success.
The 24-year-old is on a two-year deal at DJR and remains on a management contract with Triple Eight principal Roland Dane through to the end of 2016.
"I feel like I'm turning a corner in this championship now," Pye told Speedcafe.com.
"For me I've calmed down a little bit.
"The team has been key for this season they are such a great group of guys.
"We have great engineers that keep me calm and good team management.
"Last year I felt like I had something to prove because I was on a one year deal and I was trying to get another drive for the next season.
"This year I feel I can relax and let the results come.
"I know I've got a good car but I will keep pushing hard and that will keep my bum in the seat.
"Had we started in the top 10 it could have been a podium today, however fourth is fantastic, its a career best for me so I couldn't be happier."
Although convinced his V8 Supercar career is turning a corner after his impressive fourth place finish, Pye says he is determined to work on his existing weaknesses in a bid to close in on the top 10 in the championship standings.
"I can build on this result but we have got to work just hard as we have been all season," added Pye, who is now occupying 13th spot in the standings.
"We are getting stronger but qualifying is still a massive weakness for us and that is something I want to improve.
"I've got goals in my head that I haven't achieved yet. I would like to be a bit better than top 15 in the championship come the end of the year."