Fuel shortage costly for Caruso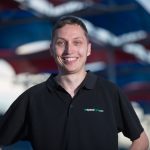 A lack of fuel forced Michael Caruso to give up a seventh place finish on the final lap of the 200km encounter at the Coates Hire Ipswich 400.
The Nissan Motorsport driver had driven a strong race at Queensland Raceway having started from the fourth row of the grid only to run out of fuel on the last lap.
As a result, Caruso was left to coast to the chequered flag which saw Holden's Nick Percat surge past on the Dick Johnson straight, leaving the Sydney racer in eighth spot.
"I just ran out of fuel," Caruso told Speedcafe.com.
"I'm extremely disappointed having worked hard all of the race and then I found on the last lap we were not going to have enough fuel.
"I didn't even get the opportunity to save any.
"My weekend has been filled with these times where you have to say 'this is motor racing'."
Despite this issue, Caruso, who was also involved in the weekend's controversial clash with Volvo's Scott McLaughlin which took the pair out of contention for victory in Saturday's Race 24, is confident the improved performance from the Nissan Altima will lift the team.
"I'm happy with the weekend and it was a lot stronger than everyone presumed and hopefully we can continue this," added Caruso.
"A factory supported team should be doing what we are doing and moving forward.
"There is no doubt performance like this from the Nissan cars doesn't just help the guys that come to the track but everybody that is back home and working for the team.
"This will lift the team. Its been pretty tough for the last 18 months and we definitely wanted to roll out a year ago and be straight on the pace.
"However, only hard work will get us to the front and that is what intend to do.
"I know race wins don't come everyday but we were in a genuine position to win a race on saturday and I think we need to be proud of that because those opportunities do not come all of the time, but they will come again if we keep working hard."
Caruso's team-mate James Moffat took Nissan's first V8 Supercars Championship pole this morning before finishing fifth in the 200km race.
Caruso remains the highest place Nissan driver on the championship table in 12th, with Moffat passing fellow stable-mate Rick Kelly for 15th.