Waters shoots to Dunlop Series pole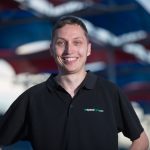 A last gasp effort from Cameron Waters earned him the Armor All pole position for the fifth round of the Dunlop Development Series at Queensland Raceway.
The Ford Performance Racing driver saved his best until the dying minutes of the session as he denied Eggleston Motorsport's Paul Dumbrell from taking pole.
Dumbrell had topped the timesheets for the majority of the session only to be pipped by 0.0138s at the end of the 10 minute hit out.
Chris Pither will head up row two in third as he starred behind the wheel of of his Icebreak Racing Holden, while championship leader Ash Walsh, who topped Friday's free practice, was fourth.
Steven Johnson will start Saturday's 29 lap race from fifth on the grid just in front of Kiwi Andre Heimgartner.
Tim Blanchard on his V8 return was seventh despite suffering a brief off. The former Dick Johnson Racing driver will start ahead of Eggleston Motorsport's Garry Jacobson.
Aaren Russell and Andrew Jones completed the top 10 with just half a second covering the group.
Dunlop Series Qualifying Results
| | | | | | |
| --- | --- | --- | --- | --- | --- |
| 1 | TEAM ENZED FPR | Cameron Waters | Ford Falcon FG | 1:10.34 | |
| 2 | Eggleston Motorsport | Paul Dumbrell | Holden Commodore VE2 | 1:10.36 | 00.01 |
| 3 | Icebreak Racing | Chris Pither | Holden Commodore VE2 | 1:10.53 | 00.19 |
| 4 | Infants Friend | Ashley Walsh | Ford Falcon FG | 1:10.68 | 00.34 |
| 5 | Wilson Security Racing | Steven Johnson | Ford Falcon FG | 1:10.74 | 00.40 |
| 6 | Finance Ezi/MW Motorsport | Andre Heimgartner | Ford Falcon FG | 1:10.75 | 00.40 |
| 7 | Cool Drive Distribution/MWM | Tim Blanchard | Ford Falcon FG | 1:10.81 | 00.46 |
| 8 | Eggleston Motorsport | Garry Jacobson | Holden Commodore VE2 | 1:10.86 | 00.51 |
| 9 | Go Karts Go/North Side Fire Services | Aaren Russell | Ford Falcon FG | 1:10.90 | 00.55 |
| 10 | A.L.B. Distributors | Andrew Jones | Holden Commodore VE2 | 1:10.91 | 00.56 |
| 11 | Matt Stone Racing | Todd Hazelwood | Ford Falcon FG | 1:11.01 | 00.66 |
| 12 | Image Racing | Jack Le Brocq | Ford Falcon FG | 1:11.12 | 00.77 |
| 13 | Dragon Motor Racing | Kristian Lindbom | Holden Commodore VE2 | 1:11.18 | 00.84 |
| 14 | United Racing | Paul Morris | Ford Falcon FG | 1:11.22 | 00.87 |
| 15 | Eggleston Motorsport | Ant Pedersen | Holden Commodore VE2 | 1:11.30 | 00.95 |
| 16 | Haber Xcavations/MW Motorsport | Morgan Haber | Ford Falcon FG | 1:11.52 | 01.17 |
| 17 | R&J Batteries | Geoff Emery | Holden Commodore VE2 | 1:11.56 | 01.21 |
| 18 | Think Holden | Macauley Jones | Holden Commodore VE2 | 1:11.64 | 01.29 |
| 19 | Action Racing | Marcus Zukanovic | Ford Falcon fg | 1:11.76 | 01.42 |
| 20 | Forpark/Aust Custom Moulders | Matt Hansen | Holden Commodore VE2 | 1:12.08 | 01.74 |
| 21 | Wynn's/Vili's | Josh Kean | Holden Commodore VE2 | 1:12.21 | 01.87 |
| 22 | Street Figher | Dan Day | Holden Commodore VE2 | 1:12.23 | 01.89 |
| 23 | Formula Tech/Interquip Racing | Brett Stewart | Holden Commodore VE2 | 1:12.63 | 02.29 |
| 24 | Pacific Hoists/Halda Race Pilo | Brett Hobson | Holden Commodore VE2 | 1:12.75 | 02.41 |
| 25 | Rev Trans WA/Evolution Custom | Phil Woodbury | Holden Commodore VE2 | 1:13.22 | 02.87 |
| 26 | McGill Motorsport | Aaron McGill | Holden Commodore VE2 | 1:13.31 | 02.96 |
| 27 | Mocomm Communications | Jim Pollicina | Ford Falcon FG | 1:13.33 | 02.98 |
| 28 | Voight Contracting | Aaron Tebb | Holden Commodore VE2 | 1:13.37 | 03.02 |
| 29 | Gulf Western Oil | Michael Hector | Ford Falcon FG | 1:13.58 | 03.23 |
| 30 | Worldwide Gaming | Ben Schoots | Holden Commodore VE2 | | |