Walsh excluded after weigh bridge infringement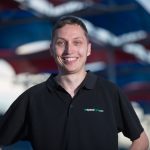 Dunlop Series championship leader Ash Walsh has been relegated to the back of the grid following a weigh bridge infringement after qualifying at Queensland Raceway.
Walsh had secured fourth spot on the grid but will now find himself in damage limitation mode in today's 29 lap race after stewards excluded the Ipswich native from the session.
The Matt Stone Racing driver is deemed to have breached the parc ferme rules after the session as he failed to drive to the weigh bridge immediately after the hit out.
Up until this weekend mechanics have taken the cars to the weigh bridge but series organisers have introduced new weigh bridge rules for this weekend's meeting.
As a result, Walsh, who holds a 47 point lead at the top of the standings, will start from the back of the grid leaving the Queenslander questioning the severity of the penalty.
"This is going to hurt us a lot," Walsh told Speedcafe.
"I think its very harsh but it is what it is. I think it is the wrong penalty.
"A fine or something along those lines would have been better. I didn't gain an advantage or anything like that.
"Its not the ideal time for something like this to go wrong but I have nobody else to blame but myself.
"The rules have been changed this weekend.
"When the session finishes the driver has to then drive the car back to the pits which is a change from before.
"Usually the mechanic would drive the car back where the weigh bridge is.
"I pulled in my pits and then I went to the weigh bridge and in the stewards eyes that is a breach of the parc ferme rules and excluded me from the session.
"It has changed my focus. I now have to finish and have to get points."
Cameron Waters will start Saturday's Dunlop Series race from pole position with Eggleston Motorsport's Paul Dumbrell starting alongside the Ford Performance Racing driver.
The first of two Dunlop Series races this weekend begins at 3.25pm local time.