No regrets for Caruso over McLaughlin clash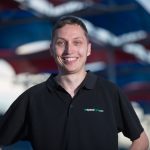 Michael Caruso says he has no regrets over the move which took both himself and Scott McLaughlin out of contention for victory in Race 24 at the Coates Hire Ipswich 400.
The Nissan Motorsport driver had closed in on McLaughlin's Volvo towards the end of the 100km encounter at Queensland Raceway before pitching the 21-year-old Kiwi into a spin with an illjudged move at Turn 6 with 11 laps remaining.
Caruso's dive-bomb was immediately met by a drive through penalty from the stewards, while McLaughlin, who had the led the majority of the race from pole, limped home in 19th position.
Although he apologised for his actions to close friend McLaughlin straight after returning to pitlane, Caruso says he would contemplate a similar move while battling for victories in the future.
"I have no regrets," Caruso, who dodged Network Seven television cameras in the immediate aftermath of the race, told Speedcafe.com.
"The day I regret having a go to win a race is the day I should stop racing and that is probably the same for every other racing driver in the field.
"We all want to win.
"Tomorrow is a new day and I hope everything is going to be just as strong for Sunday.
"We were racing pretty hard there for a few laps and I had some speed on him and I thought I was close enough to have a go.
"I've spoken to Scotty and there is no dramas between us," he added.
"We are good mates and he knew it wasn't intentional. I just wanted to cool down once I got out of the car before everyone started hammering."
McLaughlin held further discussions with Caruso in the Nissan truck after the race and, while disappointed to be taken out of the contest, the Volvo driver has made it clear that he holds no grudges.
"I have massive respect and friendship with Michael which makes it awkward but he had to have a go and I understand his position," McLaughlin told Speedcafe.com.
"It was just one of those things.
"I'm pissed off but I'm glad he came up to me and apologised straight away.
"I was just trying to hold on and I think Michael would have got me anyway. I don't think we had a race winning car but we could have got a podium."