Kyle Larson takes Pocono pole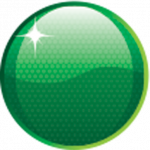 Rookie Kyle Larson has scored his first NASCAR Sprint Cup pole award with the fastest time at the GoBowling.com 400 at Pocono.
Larson won the Coors Light Pole Award turning a record-setting lap of 295.215 km/h (183.438 mph) in the Chip Ganassi Racing Chevrolet.
Larson did start off the point earlier this year at Richmond, but that came after qualifying was washed out and times were set on practice speeds.
"I had some butterflies going into that last round," said Larson.
"I knew we'd have a good shot at the pole after the second round and I was nervous. But I hit all three corners as good as I could, so I was excited about that.
"Everybody at the shop is making the cars faster and faster every week, and we're getting better and better. I really think a win's coming soon and that would be great before the Chase starts."
Starting alongside will be Team Penske's Joey Logano with another the Penske Ford of Brad Keselowski in third. Kurt Busch and Jeff Gordon round-out the top-5.
A handful of drivers eclipsed the former track record early on, topping the previous mark of 291.960km/h (181.415 mph) set by Denny Hamlin in June.
Several drivers had trouble in the opening 25-minute segment. Greg Biffle was penalised in the opening minutes of qualifying after a blend-line violation. Jimmie Johnson suffered the same fate in the final five minutes of the opening session. After serving his penalty, he returned to the track and eliminated Biffle from the top 24.
Carl Edwards scraped the Turn 2 wall and then bounced through the grass before hitting the access lane. He failed to make the 24-driver first cut as his team pushed the car back to the Sprint Cup garage for repairs.
Despite saying he was happy with the balance in his Ford, Australia's Marcos Ambrose will start 27th.
"The downforce tracks have been a struggle for us at RPM all year and it continues here," said Ambrose.
" I threw down some good laps there, so I'm pleased with my effort and we'll just keep working really hard.
"We've got good balance on the car, which is normally a good sign for the race, but we're just missing a couple tenths to get us to transfer through or it would have been a different story."
VIDEO: Kyle Larson speaks after qualifying

 QUALIFYING: GoBowling.com 400 – Pocono Raceway
| | | | | | | | |
| --- | --- | --- | --- | --- | --- | --- | --- |
| POS. | CAR | DRIVER | MANUFACTURER | SPONSOR | MPH | BEST TIME | BEHIND |
| 1 | 42 | Kyle Larson | Chevrolet | Target | 183.438 | 49.063 | Leader |
| 2 | 22 | Joey Logano | Ford | Shell Pennzoil | 183.408 | 49.071 | –0.008 |
| 3 | 2 | Brad Keselowski | Ford | Alliance Truck Parts | 182.700 | 49.261 | –0.198 |
| 4 | 41 | Kurt Busch | Chevrolet | Haas Automation | 182.660 | 49.272 | –0.209 |
| 5 | 24 | Jeff Gordon | Chevrolet | Axalta | 182.611 | 49.285 | –0.222 |
| 6 | 4 | Kevin Harvick | Chevrolet | Mobil 1 Chevrolet SS | 182.090 | 49.426 | –0.363 |
| 7 | 18 | Kyle Busch | Toyota | M&M's | 182.020 | 49.445 | –0.382 |
| 8 | 1 | Jamie McMurray | Chevrolet | Bad Boy Buggies | 182.017 | 49.446 | –0.383 |
| 9 | 88 | Dale Earnhardt Jr | Chevrolet | Michael Baker International | 181.741 | 49.521 | –0.458 |
| 10 | 10 | Danica Patrick | Chevrolet | GoDaddy | 181.646 | 49.547 | –0.484 |
| 11 | 3 | Austin Dillon | Chevrolet | American Ethanol | 181.605 | 49.558 | –0.495 |
| 12 | 5 | Kasey Kahne | Chevrolet | Farmers Insurance | 181.280 | 49.647 | –0.584 |
| 13 | 11 | Denny Hamlin | Toyota | FedEx Office | 181.159 | 49.680 | –0.617 |
| 14 | 15 | Clint Bowyer | Toyota | RK Motors Charlotte | 181.156 | 49.681 | –0.618 |
| 15 | 55 | Brian Vickers | Toyota | Aaron's Dream Machine | 180.850 | 49.765 | –0.702 |
| 16 | 14 | Tony Stewart | Chevrolet | Code 3 / Mobil 1 | 180.716 | 49.802 | –0.739 |
| 17 | 48 | Jimmie Johnson | Chevrolet | Lowe's | 180.502 | 49.861 | –0.798 |
| 18 | 20 | Matt Kenseth | Toyota | Dollar General | 180.274 | 49.924 | –0.861 |
| 19 | 78 | Martin Truex Jr | Chevrolet | Furniture Row | 180.133 | 49.963 | –0.900 |
| 20 | 47 | AJ Allmendinger | Chevrolet | Scott Products | 179.986 | 50.004 | –0.941 |
| 21 | 31 | Ryan Newman | Chevrolet | Quicken Loans | 179.878 | 50.034 | –0.971 |
| 22 | 51 | Justin Allgaier | Chevrolet | AccuDoc Solutions | 179.412 | 50.164 | –1.101 |
| 23 | 17 | Ricky Stenhouse Jr | Ford | Fifth Third Bank | 179.304 | 50.194 | –1.131 |
| 24 | 13 | Casey Mears | Chevrolet | No. 13 GEICO Chevrolet SS | 179.069 | 50.260 | –1.197 |
| 25 | 16 | Greg Biffle | Ford | 3M | 179.169 | 50.232 | –1.169 |
| 26 | 99 | Carl Edwards | Ford | Fastenal | 178.998 | 50.280 | –1.217 |
| 27 | 9 | Marcos Ambrose | Ford | DeWalt | 178.916 | 50.303 | –1.240 |
| 28 | 43 | Aric Almirola | Ford | GoBowling.com | 178.912 | 50.304 | –1.241 |
| 29 | 27 | Paul Menard | Chevrolet | Certain Teed / Menards | 178.862 | 50.318 | –1.255 |
| 30 | 38 | David Gilliland | Ford | Long John Silver's | 178.049 | 50.548 | –1.485 |
| 31 | 98 | Josh Wise | Chevrolet | Phil Parsons Racing | 177.704 | 50.646 | –1.583 |
| 32 | 40 | Landon Cassill | Chevrolet | Newtown Building Supplies | 177.676 | 50.654 | –1.591 |
| 33 | 26 | Cole Whitt | Toyota | Toyota of Scranton | 177.560 | 50.687 | –1.624 |
| 34 | 32 | Travis Kvapil | Ford | TBA | 177.399 | 50.733 | –1.670 |
| 35 | 36 | Reed Sorenson | Chevrolet | TBA | 177.354 | 50.746 | –1.683 |
| 36 | 23 | Alex Bowman | Toyota | Dr. Pepper Toyota Camry | 176.502 | 50.991 | –1.928 |
| 37 | 83 | Ryan Truex | Toyota | Burger King Toyota Camry | 176.429 | 51.012 | –1.949 |
| 38 | 7 | Michael Annett | Chevrolet | Pilot / Flying J Chevrolet | 176.412 | 51.017 | –1.954 |
| 39 | 34 | David Ragan | Ford | A&W ROOT BEER FLOAT / CSX | 176.094 | 51.109 | –2.046 |
| 40 | 37 | Dave Blaney | Ford | Accell Construction Inc. | 174.801 | 51.487 | –2.424 |
| 41 | 66 | Joe Nemechek | Toyota | Land Castle Title | 172.285 | 52.239 | –3.176 |
| 42 | 33 | Alex Kennedy | Chevrolet | Thunder Coal | 172.199 | 52.265 | –3.202 |
| 43 | 93 | Johnny Sauter | Toyota | Dr. Pepper Toyota | 166.162 | 54.164 | –5.101 |