Dumbrell wins chaotic Dunlop Series opener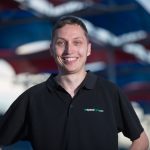 Eggleston Motorsport's Paul Dumbrell produced a lights-to-flag victory in a highly eventful Dunlop Series encounter at Queensland Raceway.
The Red Bull Racing enduro driver managed to get the jump on polesitter Cameron Waters at the start and despite three Safety Car periods, he held on to complete an impressive victory in a time shortened race.
Aaren Russell came home in second while Andrew Jones claimed the final spot on the podium in third.
But the drive of the day belonged to championship leader Ash Walsh, as he avoided carnage to finish fifth from the back of the grid after being excluded from qualifying due to a weigh bridge infringement.
Dumbrell leapt into the lead from the start as he slipped ahead of polesitter Waters on the run down to Turn 1 while Pither slotted into third. The Ice Break Racing Holden moved into second before the end of the lap.
While the field managed to navigate through the opening corner without any issues, Tim Blanchard and Andre Heimgartner made contact at Turn 2 which saw the pair run deep onto the grass.
However, the Safety Car was deployed just seconds later when Matt Hansen and Kristian Lindbom became involved in a multi car incident. A grass fire then broke out as a result of the crash.
Racing resumed shortly after but the field were unable to complete a racing lap before the Safety Car was required again.
This time Waters tagged second placed Pither at Turn 4 which sparked another multi car pile up. Steven Johnson had nowhere to go and piled into the front of Pither's car which caused further chaos.
The crash played into the hands of Ipswich local Walsh as he avoided the carnage to move up to 10th position.
Racing eventually resumed after 11 laps with Dumbrell making the most of the restart to open up a eight tenths of a second lead.
Walsh continued to move up the order as he quickly found a way around Paul Morris and Marcus Zukanovic to slot into seventh position.
Meanwhile, at the front Russell found himself in second with a comfortable margin to Andrew Jones in third.
Dumbrell managed to build a 3s lead before he saw his advantage wiped out again when the Safety Car was deployed for a third time when Brett Hobson stopped on the circuit at Turn 4.
In the end, Dumbrell made no mistake on the final restart and he calmly led the field to the chequered flag to close in on Walsh in the championship.
Russell guided his Ford Falcon to second with Jones in third.
Garry Jacobson was fourth ahead of Walsh who passed Jack Le Brocq and Ant Pedersen in the final two laps to finish fifth.
Paul Morris came home in seventh ahead of Marcus Zukanovic while Morgan Haber secured pole position for Sunday's race in 10th position.
Dunlop Series Queensland Raceway Race 1 Result 
| | | | | | |
| --- | --- | --- | --- | --- | --- |
| 1 |   Eggleston Motorsport | Paul Dumbrell |  Holden Commodore VE2 |  38:20.7995 | 1:10.9293R |
| 2 |   Go Karts Go/North Side Fire | Aaren Russell |  Ford Falcon FG |  38:22.7416 | 1:11.9042 |
| 3 |   A.L.B. Distributors | Andrew Jones |  Holden Commodore VE2 |  38:23.5140 | 1:12.0255 |
| 4 |   Eggleston Motorsport | Garry Jacobson |  Holden Commodore VE2 |  38:24.1605 | 1:12.2094 |
| 5 |   Infants Friend | Ashley Walsh |  Ford Falcon FG |  38:24.5824 | 1:11.7262 |
| 6 |   Image Racing | Jack Le Brocq |  Ford Falcon FG |  38:25.3173 | 1:12.2302 |
| 7 |   Eggleston Motorsport | Ant Pedersen |  Holden Commodore VE2 |  38:25.6996 | 1:12.1772 |
| 8 |   United Racing | Paul Morris |  Ford Falcon FG |  38:26.1653 | 1:12.4286 |
| 9 |   Action Racing | Marcus Zukanovic |  Ford Falcon fg |  38:26.8064 | 1:12.5109 |
| 10 |   Haber Xcavations/MW Motorsport | Morgan Haber |  Ford Falcon FG |  38:28.2086 | 1:12.1436 |
| 11 |   Think Holden | Macauley Jones |  Holden Commodore VE2 |  38:31.5597 | 1:12.7180 |
| 12 |   Formula Tech/Interquip Racing | Brett Stewart |  Holden Commodore VE2 |  38:31.6766 | 1:13.1876 |
| 13 |   Wynn's/Vili's | Josh Kean |  Holden Commodore VE2 |  38:32.0937 | 1:13.0483 |
| 14 |   McGill Motorsport | Aaron McGill |  Holden Commodore VE2 |  38:35.6987 | 1:13.8488 |
| 15 |   Rev Trans WA/Evolution Custom | Phil Woodbury |  Holden Commodore VE2 |  38:35.8456 | 1:13.6394 |
| 16 |   Forpark/Aust Custom Moulders | Matt Hansen |  Holden Commodore VE2 |  38:33.0705 | 1:13.1643 |
| 17 |   Street Figher | Dan Day |  Holden Commodore VE2 |  38:33.6621 | 1:13.1403 |
| 18 |   Mocomm Communications | Jim Pollicina |  Ford Falcon FG |  38:34.0265 | 1:13.4643 |
| 19 |   TEAM ENZED FPR | Cameron Waters |  Ford Falcon FG |  38:38.2632 | 1:12.9991 |
| 20 |   Cool Drive Distribution/MWM | Tim Blanchard |  Ford Falcon FG |  38:28.7352 | 1:11.9843 |
| 21 |   Voight Contracting | Aaron Tebb |  Holden Commodore VE2 |  38:36.3305 | 1:14.0956 |
| 22 |   Gulf Western Oil | Michael Hector |  Ford Falcon FG |  38:40.7621 | 1:14.4941 |
| DNF |   Matt Stone Racing | Todd Hazelwood |  Ford Falcon FG |  34:12.4375 | 1:12.2465 |
| DNF |   Pacific Hoists/Halda Race Pilo | Brett Hobson |  Holden Commodore VE2 |  27:28.6276 | 1:13.2134 |
| DNF |   Icebreak Racing | Chris Pither |  Holden Commodore VE2 |   8:54.1115 | 1:15.2016 |
| DNF |   Wilson Security Racing | Steven Johnson |  Ford Falcon FG |   8:54.7288 | 1:15.8317 |
| DNF |   R&J Batteries | Geoff Emery |  Holden Commodore VE2 |   1:28.7890 | 1:28.7890 |
| DNF |   Dragon Motor Racing | Kristian Lindbom |  Holden Commodore VE2 | | |
| DNF |   Finance Ezi/MW Motorsport | Andre Heimgartner |  Ford Falcon FG | | |